Every year around this time we have a bonfire to celebrate the coming of Fall and Toby's B-day. But this year, we are also celebrating Kaia's speedy recovery from the snake bite, and Toby's new job! We have a lot to be thankful for.
When I saw this post a few months ago on painting with chocolate, I knew I had to do it as a topper for Toby's B-day cake!! I can't believe how simple it was and how freaking awesome it turned out!!
I found a good picture and altered it according to the video in the post above. Then taped the picture to cardboard and covered it with wax paper and taped that down too.
I put the dark chocolate in a plastic ziploc bag and melted it in hot water. Then I filled in the larger areas of the darkest parts of the picture. Here you see me using a tooth pick to add chocolate to the detailed areas.
This is the final picture of the dark chocolate before I put it in the fridge to harden.
I mixed the dark chocolate with white (lots of white, only a little dark) to get a nice brown color and filled in the shadowed parts of the picture.
Then, after cooling it again, I used the white to cover everything with a nice thick layer, and returned it to the fridge.
Once it had time to harden I took it out and flipped it over to reveal his chocolate handsomeness!!
Kaia also took her turn making flowers and designs to decorate the cake.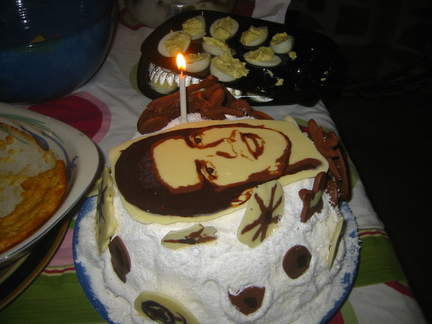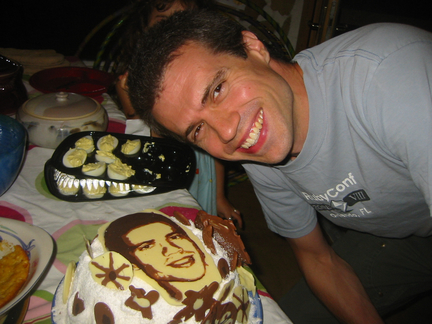 Toby loved it! It now sits in the freezer so that it's staring at you when you open the freezer door! Don't know if we will ever eat it. 🙂
This morning we celebrated his real birthday with breakfast in bed and a hike.  Happy Birthday Sweet Stuff!