Ever since I can remember, our Christmas/Yule tree was adorned with little ice skates that someone crochet for us.  My sister and I use to love to take them off the tree to play with them and make them skate.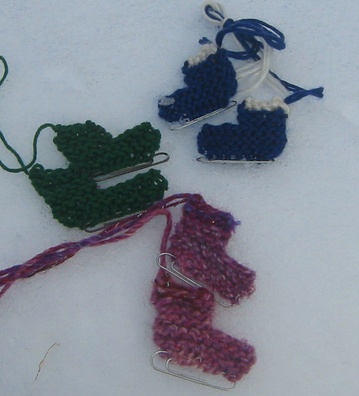 I wanted some for our tree, and to decorate gifts, and for my daughters upcoming magnet studies… so, with a low grade fever, a sick, teething baby, and one day until Christmas, I thought I'd make some 🙂
Since I don't crochet, I made my own pattern for knitters.  It's really simple!
Paper Clip Ice Skates
Size – ~2 inches
Materials – 5 yards of yarn, 1 yard contrasting/fancy yarn (optional), worsted to bulky weight
Tools – #7/4.5 mm needles, embroidery needle, jumbo paper clips
Gauge –unimportant
The Pattern – Make two

Cast on 10 stitches.
Knit four rows.
Bind off the first 5 stitches and knit the next five.
Knit four rows.
If you are using a contrasting yarn for the top of the ice skate, switch to contrasting yarn.
Knit one row.
Bind off and cut yarn, leaving a 10 inch tail.  Tie off the yarn.
Once you have your two skates, tie the top 10 inch tails together and weave in the other loose ends.
Weave the jumbo paper clip into the bottom of the skate.
Hang them on a tree, tie them to a present, put them over a piece of cardboard with a magnet underneath and make them skate, heck, tie them to your cat's feet and pretend she's a gold medal figure skater (ok, not really, I don't want to get sued for animal cruelty!)… just enjoy them!