Here it is!  Kaia's Flower Fairy/Pearly Mermaid/ Blingy Princess skirt!  It is a holiday gift for her and I can't wait to give it to her!
Ok, so there is a little math to do with this pattern, but it's really not that hard!  Trust me!
Flower Fairy Skirt
Size – Child (although, it can be easily adapted.  This skirt was knitted for a 6 year old with a 20″ waist, and it is about 20 " long)
Materials – Reynolds Garden Tweed (or other worsted weight or aran yarn), 5 skeins (approx. 360 yards).  Contrasting color yarn to create an I-cord waist band.  Beads/bling if desired. (Be sure your beads have a hole large enough for the sewing needle and yarn to go through.)
Tools –
#7/4.5mm circular needle (or size needed to get gauge) 16″ and 32 " – main needles
#5/3.75mm circular (16″) or double point needles
Stitch markers, tapestry needle, sewing needle
Abbreviations –
K = knit
P = purl
M1 = Make one (I used Make one away)
K2tog = knit two stitches together
P2tog = purl two stitches together
SSK = slip the next 2 stitches knit-wise onto your right needle, then knit them together by sliding your left needle into the front of the two stitches
Preparations
Measure the child's waist _____ + 1.5″ ease for hips = _____(A)
Measure from the waist to the knee _____(B) divide by 2 _____(C)
Knit a gauge swatch from the yarn and needles that you have chosen.  Count the stitches and rows in 4 inches and divide by four.
stitches per inch_____(D); Â Â Â  rows per inch_____(E) on size _____ needles
_____E – 1 = _____(F)
Here's the math:
_____A x _____D= _____(G) the number of stitches you will cast on (round up or down to the closest whole number)
_____G divided by 8 = _____ (H) the number of stitches you will have between stitch markers
Adding the spiral to the skirt (if desired)

On your first row of the main body, after the 2nd, 4th, 6th, and 8th stitch markers, P3 instead of knitting, then begin knitting again.  In each successive row, continue your knitting until you come to the last purl stitch in the previous row, then P3, and knit on.  This creates the spiral pattern.  As you are working this pattern, if you come to a place where you are needing to make an increase in the middle of the purl pattern, just increase after your P3.
The Pattern
Waistband

Cast _____(G) stitches onto needles 2 sizes smaller than your main needles (in my case, I used size 5) and join in a circle. Knit in ribbing for 2 inches. (I did K4 P4 ribbing.)
Switch to main needles (16″, switching to longer circular needles as needed)
First half of main body
Row 1 – Knit one row, placing markers every ___(H) stitches.
Row 2 – *K to marker, M1*, repeat to end
Row 3 – K for _____(F) rows
Repeat rows 2 and 3 until _____(C) inches from cast on.
Second half of main body
Row 1 – *K1, M1, K to one stitch before marker, M1, K1* repeat to end
Row 2 – Knit for _____ (F) rows
Repeat this pattern until _____ (B) inches from cast on.
Cut and tie off yarn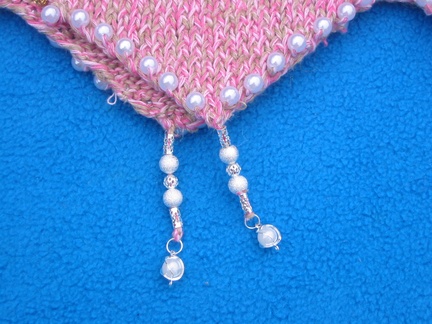 Points of the skirt/adding beads (if desired)

From this point, you will be working in between the stitch markers.  Count the number of stitches you have in between the markers.  Divide this number by two.  If you end up with an odd number, round down.  For example, if you have 30 stitches and divide by two you get 15.  round down to 14.  This is the number of beads you will thread on to the yarn before joining it back to the work.  You may need to use a sewing needle to do this.
Once you have threaded on your beads, begin working in between one set of stitch markers.  Leave the other stitches on the circular needle as you work back and forth in between the stitch markers, one set at a time.
Right side – K2tog, place bead, K to last 3 stitches, place bead, SSK.
Turn your work
Wrong side – P2tog, P to last 2 stitches, P2tog.
Turn your work
Repeat this pattern until you have 1 stitch remaining.  All your beads should have been placed by now.  Tie off your yarn and cut, leaving 10 inches.  Thread on more beads, if desired, to make beaded 'dangles' at the end of each point.  Tie off yarn and thread in loose ends.
Repeat this in between each set of stitch markers.
Tie off and weave in any loose ends.
Waist tie
In a contrasting color and double pointed needles the same size as your main needles, cast on 3 stitches leaving a 10″ tail.  Knit an I-cord 20″ longer than your waist measurement _____(A + 20″).  Cut and tie off ends.  Using a tapestry needle, thread the cord through the waist band.  Thread in all loose ends.
Phew!!  Now, sit back and admire your lovely skirt!!
Please feel free to email me if you have any questions, find a better way to do any of this, or anything.  And if you just love the pattern so much that you want to send me money, gifts, chocolate…. well, I guess I'm ok with that!!
Send pictures of your skirts!!