This past week, Toby and I took our first big trip without the kids. Â We headed out west to Zion National Park, where I've been wanting to get back to for the past 10 years, when I first visited there.
Saturday
We flew into Vegas, on a nauseatingly bumpy plane ride, and hopped into our little rented Suzuki as fast as we could (we try not to spend too much time in Vegas). Â As we drove out towards Zion, I was quickly reminded of the vast differences between my home in the lush, green mountains of NC and the dry, brown, harsh lands out west. Â I feel so foreign here. Â I told Toby that if I had to I could survive in the wild at home. Â I know the wild foods, the predators to avoid, and where to find water. Â But here, in the desert, things are completely different. Â (I think Katniss would have had a hard time surviving in this Hunger Games).
The ride from Vegas to Zion is about 2 hours, so we stopped at the grocery store to pick up some food for the trip and drove on towards St. George to get a room for the night (it was ~8 pm by this time).
Sunday
We were up early so we could hit the Zion Park office to get our permits for hiking in the river on Monday. Â Then, we headed up the Angels Landing Trail. Â It's a 5 mile round trip trail up to the tippy top of one of the peaks for a view of Zion Canyon.
(An insane amount of pictures to follow)
I didn't notice until we were on our way back down that the sign said that 6 people have fallen off and died in the past 8 years!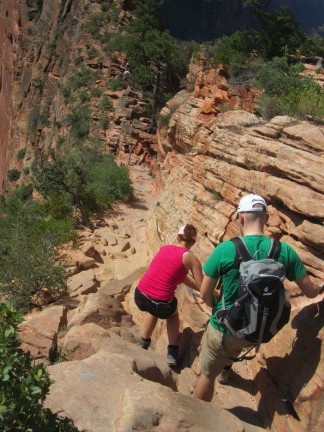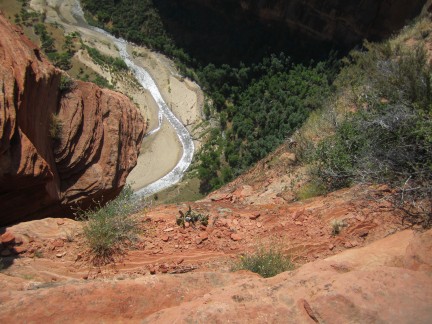 The views are just so stunning. Â There is no real way to capture it in pictures.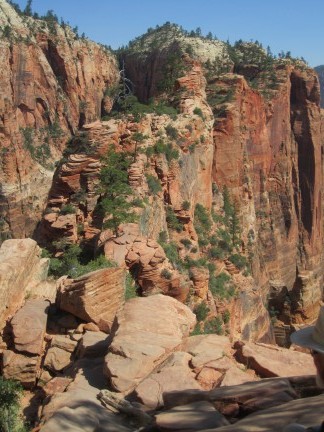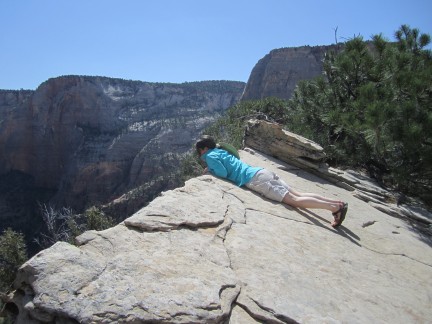 The highs reached 105 degrees this day. Â Luckily, we started the trail early in the morning and were down at the bottom by noon. Â I felt sorry for the people we met who were on their way up while we were coming down. Â They had a LONG hike ahead of them! Â (A little side note for those of you who have never been in dry heat. Â 105 with no humidity felt like about 90 degrees in the NC mountains. Â There is a lot more moisture in the air and that makes it feel hotter. Â So, I didn't think 105 was really that bad.)
Our feet were tired! Â So, we walked down to the river just beside our camp site and soaked them in the water for a bit, before heading to lunch.
After lunch, we decided to head into the big city to see The Avengers. Â I know, we are supposed to be roughing it in the wild, but Toby and I use to be big movie buffs before we had kids. Â So, this was a great opportunity to catch up on the latest movies! Â (Mmmmmm…. Captain America…..)
We set up our campsite after the movie….. we hammock camped this trip. Â It was fabulous. Â I slept so much better than I usually do camping in a tent on the ground. Â Toby made the hammocks and the bug nets!!
We fell asleep to the sounds of the bats chirping as they flew around over us catching bugs at dusk.
Monday
Monday morning, with sore calves and thighs, we headed into town to catch the shuttle that would bring us 1 1/2 hours into the back country, up to Chamberlain's Ranch.  This is where the Virgin River heads into Zion Canyon.  Here we began our two day, 16 mile hike down the river, through the canyon.  It started with a fast paced, 3-mile hike through Chamberlain's private land on a dirt road.  The land up here, above the canyon, is vastly different than down in the canyon.  It was so much more green and cool (but the skies were still as blue as turquoise, without a cloud to be seen).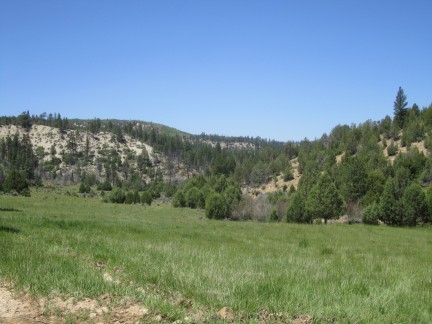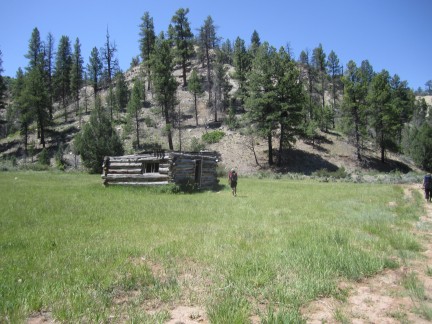 After 3 miles of dusty road, it was time to take off our sandals and put on our river boots. Â These helped keep our feet warm and prevent us from slipping all over the rocks. Â Aren't they stylish!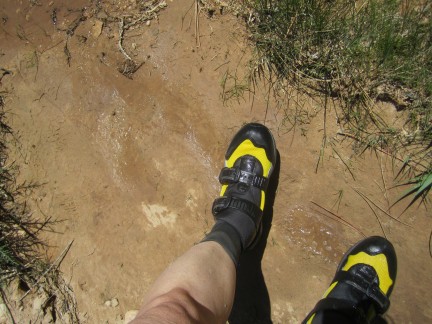 I was so excited to finally be in the river! Â Once we left the dirt path, we were in the river about 80% of the time. Â In the beginning, it was only up to our ankles, and the rocks were little pebbles, easily walked over.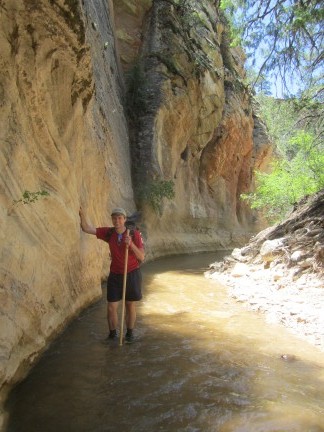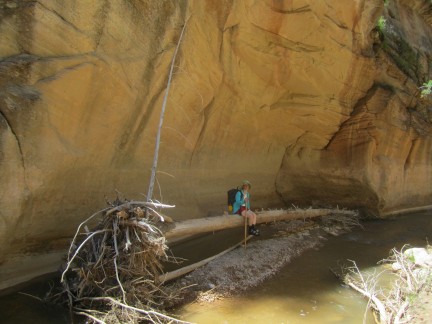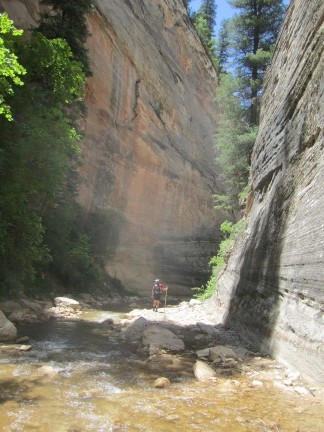 But as the hours pass, and the Virgin River meets up with Deep Creek, the canyon begins to close in around you. Â The water gets deeper and the rocks get larger and your find yourself battling to keep going. Â I was enjoying every minute of it, but my feet were sore and blistered, and my legs were tired. Â I spent most of my time staring down, trying not to stumble on the next rock in my path. Â I had to stop and remind myself to look up!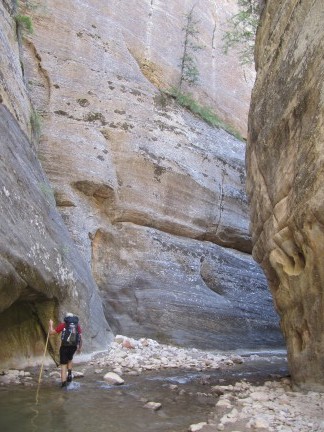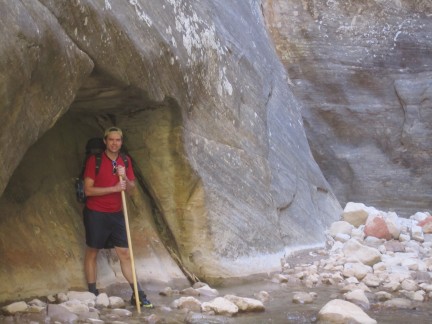 Despite my tiredness after 4+ hours of hiking, the scenery around me continued to astound me! Â I would stop, look around, and find myself exhaling, "WoooooooW" over and over again.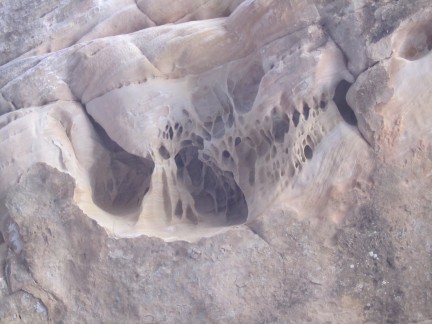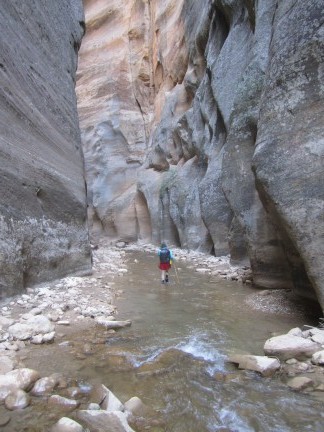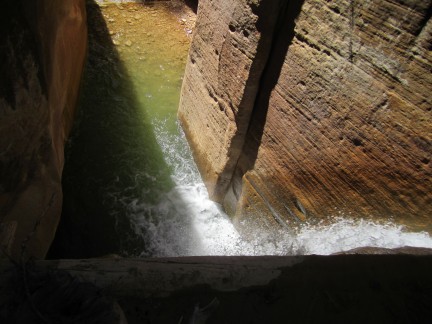 Finally, we reached the falls and I knew our campsite wasn't too much farther. Â Luckily, there was a way around the falls!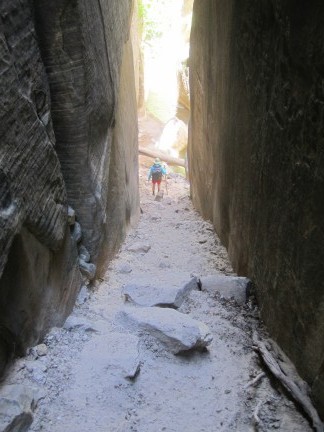 There are many spots along the river where you can chose to swim instead of walking around the water hole.  Sometimes, when the river is high, you have to swim.  After a long day of hiking, we though a swim might be nice.
But BOY was it cold!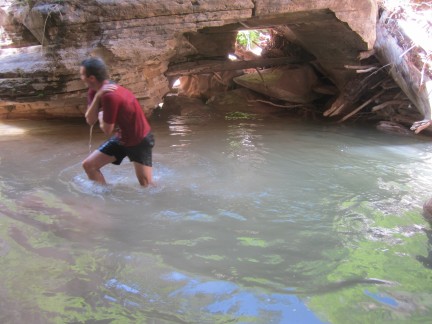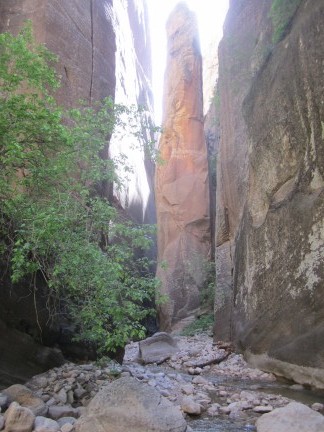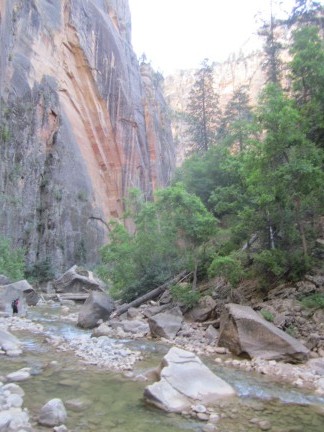 Finally, after 7+ hours and 10 miles of hiking, we made it to our campsite. Â It was fabulous! Â A nice sandy area, back from the river, with trees to hang our hammocks from. Â We set up our beds, had a bit of food, and crashed hard!
Tuesday
We awoke sore and tired, but excited to get back on the trail.
Things are easy to pack up when you are hammock camping. Â It all fits into a tiny bag.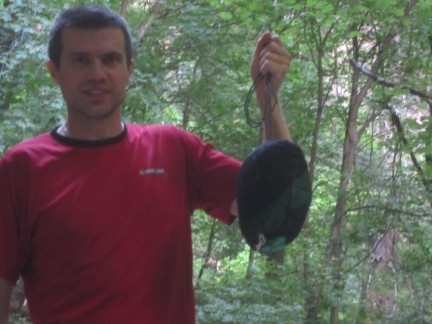 The day started well, but we tired pretty quickly. Â With 6 miles to go, the river got stronger and our feet and legs were sore.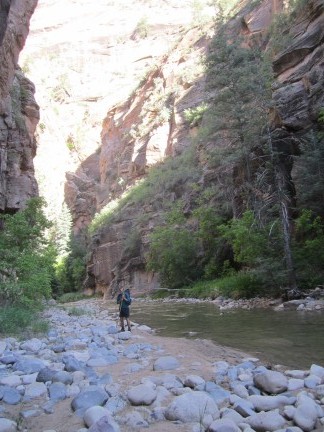 This is how we really felt.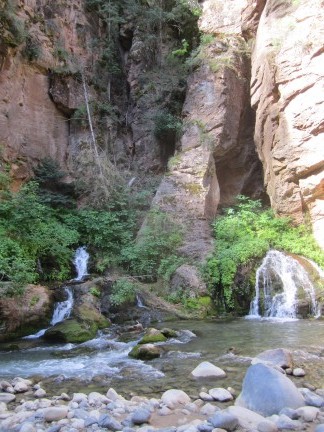 Despite the fatigue, I continued to be amazed by the beauty around me and often felt giddy as I remembered where I was and what I was doing.
We met up with a few other hikers. Â One group said they had a rock slide in the middle of the night at their campsite! Â The rocks tore holes in their tent, but thankfully, no one was hurt!
We had to go for another swim because we couldn't find a way around the river. Â This time was a little harder. Â We were chilly from the morning air and the water shocked us with its coldness! Â A family of hikers behind us had a harder time with the water and Toby had to go in after the mom. Â She was so cold she felt like she couldn't move and started panicking. Â After that, we were all chilled to the bone, but Toby got the worst of it and felt a bit hypothermic. Â So, we found a sunny rock to sit on and warm up.
I know, by now you are thinking, "Wow, sounds like you are having a hell of a time! Â Was it really worth it?" Â YES. Â It was so amazing! Â Hard and trying, but amazing and worth every minute!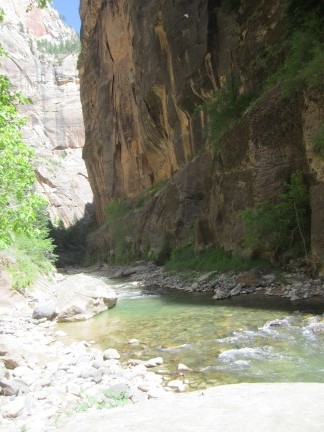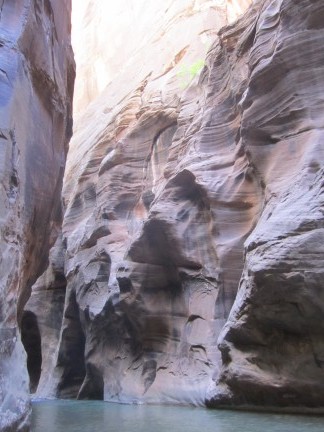 We began seeing more and more people. Â They were hiking in from the bottom of the river for a short day hike. Â We knew we were at the end of our hike when we started seeing people in flip flops and families with young kids. Â Climbing up out of the river, we took off our heavy, wet boots and collapsed onto the nearest warm rock.
16 miles, sore legs, and a bunch of blisters later, but we are still smiling!
Once we rested up a bit, we packed up our stuff and headed back towards Vegas for a bed to sleep in and a warm shower!
Wednesday
We got a cozy room at the Paris Hotel and Casino and we slept until we couldn't sleep anymore. Â Neither Toby nor I are crazy about the Vegas scene. Â It's loud and brash, and I absolutely can't stand being accosted at every turn by people shoving pornographic pictures in my face telling me where I can see nude girls. Â But, they just happen to have some fabulous Cirque du' Soleil shows in Vegas, as well as the Titanic exhibit. Â So, we spent the day staying out of the crowd by walking through the Titanic and spent the evening watching Mystere. Â Both were fabulous and it was a great way to end our trip!!