Sorry for the brief interruption in the site! We got hit by a porn hacker who was trying to download viruses onto peoples computers. But, we have cleansed ourselves of their porny ways and are back up and running!
SOOOOO! Here's what's happened in the one day that we were down…. WE passed electrical, mechanical, and plumbing final inspections!!!!!!! We have a few more things to do and then it's on to the final final inspection before we can move in!!! Can you see me doing another dance????
So, here are some pictures from the last week:
Putting the plywood, and then the backerboard down for the marble countertops (with the help of our amazing carpenter cat)

We had to buy a special tool for cutting the granite and marble. We are doing a mosaic of the pieces that we have, but we still needed to make some cuts.

Here's what the area around the sink looks like so far. We haven't grouted it yet…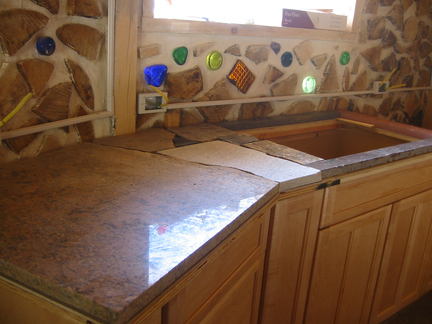 Installing the fan…

…from a precarious position