Sorry it's been a while since I blogged. Toby went to Asheville for a few days for work and K and I have been hanging out by ourselves. It's amazing how creative you have to be to keep a one year old entertained. (I'm not complaining, though! She's easy going…most stupid things I do will get her giggling!)
This morning we went to the local Waldorf school. They are starting a Morning Garden Time for parents and children (under three) that looks interesting. I have heard such good things about Waldorf style education, I thought a class like this might be a good way to see if this school would be right for K when she is old enough. We really want to raise K to be respectful of the earth and to learn from it. We want her education to be participatory; not just learning from books but also from everything around her…especially when she is young. Waldof education seems to incorporate a lot of dance, music, art, festivals and traditions into their curriculum and I think that is so important. We are way too out of touch with our bodies, with the cycles of the earth and the seasons. We have lost all connection to the natural world around us. I would love for K to grow up in a school that wasn't just about sitting up straight at your desk and looking at a chalkboard for 8 hours a day!
I have heard some other parents say that Waldorf Schools are more like cults and that the children and parents get sucked into it. And, though I do agree that this type of education is not for everyone, it's easy to see why parents can get so involed in thier children's education! Most of us have grown up in an a society that is out of touch and ungrounded. Our traditions have lost their meanings (Christmas-$$$BUY$$$) and all our festivals revolve around beer! So, when these parents see thier kids getting back intouch with their world, of course they want to participate.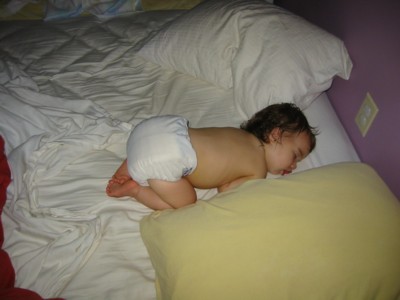 My sweet sleeper!