Common Name: Motherwort (Lion.?tail, Lion.?ear, Throw-wort, Roman Motherwort)
Scientific Name: Leonurus cardiaca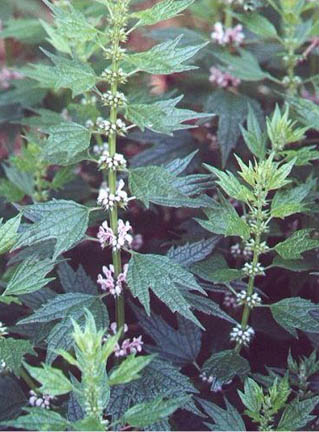 Family: Lamiaceae (mint family)
Parts Used: Aerial parts, especially the flowering tops
Harvesting: Gather when flowering, generally between June and Sept. Plant in well-drained soil in full sun. It is in the mint family, so plant it where there is lots of space to grow.
Constituents/Nutrition: Glycosides (leonurin-decreases blood pressure), Stachydrine- promotes uterine contractions, iridoids, diterpenes, triterpenes, phenolic acids, flavinoids, tannins.
Properties/Actions: Emmenagogue, Cardiac tonic, Sedative, Antihypertensive, Astringent, Anti-anxiety, Bitter, Amphoteric (balancing/normalizing)
Uses/Indications: For the heart and reproductive systems. PMS, menstrual complaints, menopausal symptoms, nervousness, tachycardia, high blood pressure. Scientific studies have confirmed many of the traditional uses of Motherwort.
Folk History/Magical Uses: .. dispel melancholy vapors from the heart..to help settle and ease one who needs mothering; to promote delayed menses, and bring on childbirth.?all traditional uses that are still relevant today. In ancient China it was used as a heart strengthener. The Greeks used it for childbirth pain, as a sedative, and for heart disease.
Cautions/Side Effects: Not recommended during pregnancy except during the last few days because it can bring on contractions. Avoid with heavy bleeding during menses because motherwort can increase bleeding.
Preparation: Tea, tincture, capsule, fomentation.
My Thoughts: I am a firm believer in the abilities of this herb, in formulas and by itself. I have seen it work to bring on late menses, to ease anxiety, and racing heartbeat. I used it (and sometimes still do) the week before my period, when I am feeling high strung, gittery and about to snap! And, Motherwort even has high approval ratings from my husband to whom I am a much nicer person now that Motherwort has entered our lives. 🙂
Bibliography:
Bremnes, L. 1988. The Complete Book of Herbs. Penguin Group, New York.
Gladstar, R. 1993. Herbal Healing for Women. Fireside, New York.
Element, Shaftesbury. Magic and Medicine of Plants. 1990. Reader.?Digest Association, New York.
Hoffman, D. 1990. The New Holistic Herbal. Second Edition.
Meyer, J. 1918. The Herbalist. Meyerbooks, Illinois.
Skenderi, G. 2003. Herbal Vade Mecum. Herbacy Press, New Jersey.
Tierra, L. 2000. A Kid.?Herb Book. Reed Publishers, California.
.
Sites to check out
Folk uses
Another Motherwort monograph
Herb Med A great site for medical research, but you have to subscribe to see the info on Motherwort.