Common Names: Red Root, New Jersey Tea, Wild Snowball
Scientific Name: Ceanothus americanus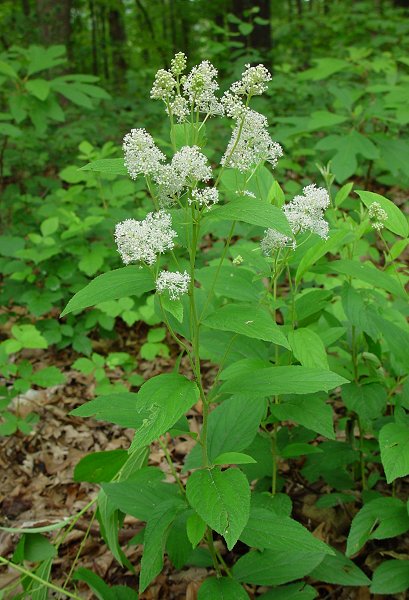 Family: Rhamnaceae (Buckthorn family)
Parts Used: Root bark
Harvesting: Semi-hardy shrub growing to ~5 feet. Grows in dry woodlands, gravely banks, and open woods; and flowers from June to August
Qualities: bitter, cold, dry
Constituents/Nutrition: Flavonoids, alkaloids, tannins, phenolic and organic acids, quercitin, resin, methylsalicilate
Properties/Actions: Astringent, Antioxident, Antispasmodic, Antimicrobial, Decongesting, Cooling, Anti-inflammatory, Expectorant, Sedative. Great Lymphatic… moves the lymph like poke but much more gently.
Uses/Indications: For inflammatory and spastic condition, especially in the gastrointestinal tract (diarrhea, stomachache) and upper respiratory tract (cold, cough, asthma), heavy or painful periods, liver stagnation, whooping cough, bronchitis, lymph congestion, as a gargle for mouth and throat irritations. Leaves can be used as a substitute for Chinese tea.
Folk History/Magical Uses: Used by Native Americans as a hair rinse or as a stimulating tea.
Cautions/Side Effects: Can lower the blood pressure. Don.?take if you have blood coagulation problems.
Preparation: Tincture or decoction
My Thoughts: I really know very little about this plant. But, my herbalist recently recommended that I use it. So, I thought I would get to know it. I am trying a percolation, as opposed to maceration, method to make a tincture for myself. It.?pretty neat. The herbs actually sit in a cone and the alcohol filters through it pulling out all the medicine. This is my first attempt, so I will let you know how it works, and take some pictures. I have a wine bottle with the bottom cut out, then I flip it upside down and pack the herb in the cone part. Like this: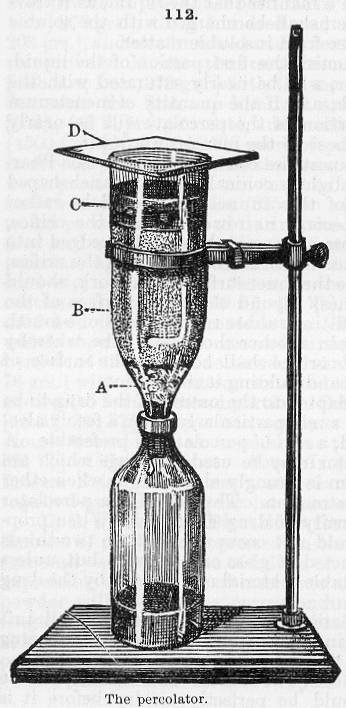 This site has some great pictures
Bibliography:
Foster, S., & Duke, J. 1990. Eastern/Central Medicinal Plants. Houghton Mifflin
Company, New York.
Holmes, P. 1998. The Energetics of Western Herbs, Vol 2. Snow Lotus press, Colorado.
Meyer, J. 1918. The Herbalist. Meyerbooks, Illinois.
Percolator. Retrieved on January 7, 2006 from
http://www.henriettesherbal.com/eclectic/kings/extracta.html
Skenderi, G. 2003. Herbal Vade Mecum. Herbacy Press, New Jersey.