Last week, I promised K that I would make her a "purple, sparkly fairy dress" when she got over the chicken pox. So, yesterday, we went to the fabric store and she picked out what she wanted for her dress, and I spent the afternoon sewing. I have to say that I am very impressed with what resulted, 'cause I don't know how to sew! I took the basic idea from another dress that K has and came up with this: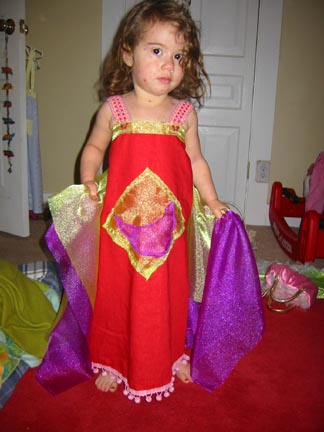 Isn't that awesome!! If I thought I could even come close to repeating it, I would make one for myself too!!
And K likes pockets, so I made two in the front for her:
And here are her wings in the back. They are held on by a button, so she can take them off if she doesn't feel like flying:
This week is also graduation for my herb school! Then, in one month, I will start the clinical preceptorship and begin seeing clients. I have seen clients before, but taking an 'official' course makes me feel more confident in my skills and more qualified to teach other herb students. I will be teaching Male and Female Anatomy and Physiology, Respiratory A&P, and select herbs to go along with those to the first level students that are beginning school in two weeks!
Oh, and on the beekeeping front, both of our hives made it through the winter and seem to be holding strong! We hope to move them up to our new land soon so that they can take advantage of all the Tulip poplars out there during blooming season!
Oh (again), and the Chia heads are growing!!