Well, we are on the home stretch. We got a lot accomplished this weekend and hope to be moving in over the next week. Here are some pictures from this weekend:


All the plastic goes up around the insulation (the insulation is from the house toby helped tear down last fall and the plastic is from that house and from the local insulation dumpster)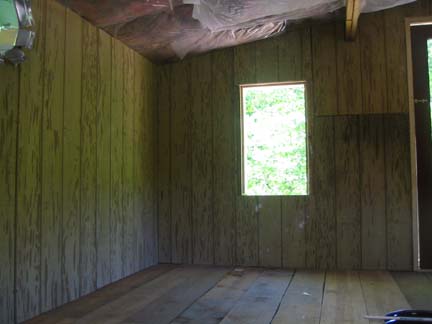 The walls upstairs go up. I know, it's not that pretty, but it was free, and once we paint it the walls will be just lovely 🙂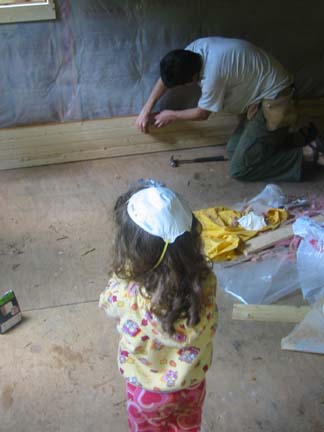 Here's Kaia, helping out with the walls downstairs. She provided constant entertainment! Yes, that is a mask she is wearing on her head!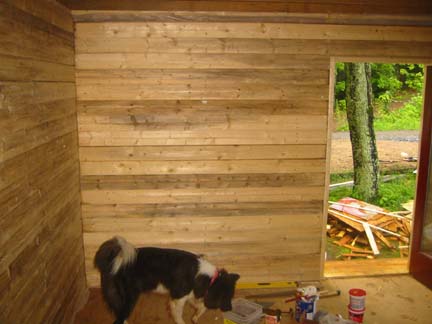 Here are the walls downstairs. It is tongue and grove flooring that was water damaged by a hurricane flood. So, we are using it on the walls and plan to paint it. We got it for pretty cheap!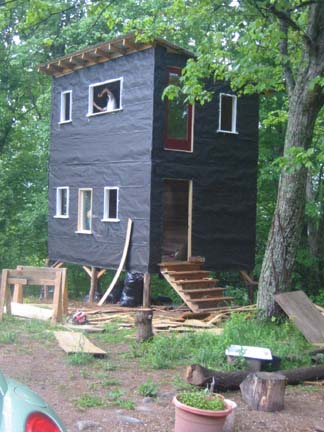 Here are the new outside stairs. We still don't know what we are going to side the house with, but the tar paper will hold up for a while while we try to find something.
We also caulked all the joints, and put in the new ladder/stairs inside. This week we will paint and put in the windows and then we should be ready to move!! Yahoo!

Ice cream break!! We all loved the ice cream!! But Kaia spazed out for ~5 hours after this! I don't know if it was the sugar, or the soy, or both, but wow did she completely lose it!
Toby checked on one of the hives this weekend. It is definitely a laying worker bee, and no queen. We are supposed to be getting another hive today, so we may try to combine the two.
Oh, and since we have no power at the little house, my posts may be pretty sporadic. But, please stay tuned, cause there will be lots of fun things to follow… cob oven, chickens, strawbale house…..