Common Names: Usnea, Old Man's Beard
Scientific Name: Usnea spp.
Family: Usneaceae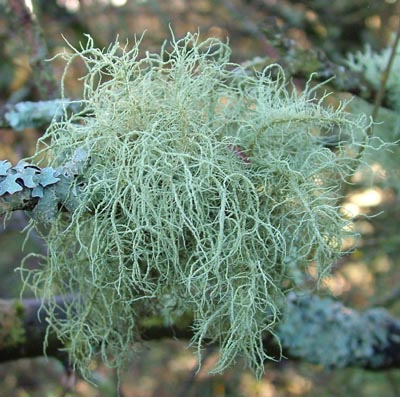 Parts Used: The whole lichen (a fungi and an algae in symbiotic relationship.)
Harvesting: Grows abundantly on trees, especially in moist areas. It is best to gather after a big windstorm when the Usnea is blown down with the big branches of trees. You can tell Usnea because of the string-like fungus that remains when you pull apart the green-grey algae.
Qualities: Drying, Cooling, Bitter, Astringent,
Constituents/Nutrition: Polysaccharides, Usnic Acid (primarily responsible for the antibacterial activity)…
Properties/Actions: Anti-microbial, Antibacterial, Demulcent, Bitter Tonic, Mild Immunomodulant, Antifungal, Antipyretic, Antispasmodic, Expectorant
Uses/Indications: Useful against Strep., Staph., and Mycobacterium (Tuberculosis). Usnea can be used topically for mouth and throat inflammation as well as for skin infections and Trichomonas, Chlamydia, and Candida albicans. Internally, Usnea is thought of as an herb for the Respiratory and Urinary systems, as well as for fungal conditions. Usnea is used for decreased appetite (bitter) and GI inflammation, to soothe the stomach and enhance digestion. It is effective for infectious conditions with a fever (bladder/urinary infections, respiratory infections) and to increase the immune response.

Folk History/Magical Uses: Though modern use has only begun recently, Usnea was reportedly used in ancient Egypt, Greece, and China to treat infections. It was also used by American Indians as a topical preparation for antisepetic dressings wound healing.
Research: This is just a sampling…
Antioxidant and antibacterial activities of lichen Usnea ghattensis in vitro.
Methanol extracts of Usnea … showed superoxide anion scavenging activity and free radical scavenging activity…
… In addition, these extracts were inhibitory against Bacillus licheniformis, Bacillus megaterium, Bacillus subtilis and Staphylococcus aureus…
Biotechnol Lett. 2005 Jul;27(14):991-5.
Usnic acid.
This is a great review onf Usnic Acid and how it works.
Phytochemistry. 2002 Dec;61(7):729-36.
Cautions/Side Effects: No known side effects or drug interactions
Preparation/Dosage:
Tincture – 20-60 drops, QID, 1:5 – Tilgner
Crush or powder the lichen before tincturing to expose the inner fungus. EtOH is best for extraction although it can be crushed and added to soups
3g/day – Commission E Monographs
Capsule form
Powdered and used topically
Recipe:
Virus Fighting Broth Recipe
4 Dried Shitake Mushrooms
1/2 Burdock Root, sliced
1/2 Daikon Radish with leaves, sliced
1 Carrot, sliced
1 Tbsp. Usnea
Soak sliced mushrooms in water for 1 hour. Add all ingredients to soup pot – including the soaking water from the mushrooms. Add just enough water (or chicken stock) to cover all ingredients.
Cover & simmer for 1 hour. Don't boil!
Strain broth before serving.
My Thoughts: I got to know this plant well this past fall as I struggled with a throat infection and lymph swelling that wouldn't go away. I combined the Usnea with the Red Root and had wonderful results. An added benefit for me was that I didn't have to take the salivary tingle of Echinacea or the extremely bitter taste of Goldenseal! There has been research showing that Usnic acid doesn't extract well in water or alcohol and that heating of the alcohol is necessary (don't try this at home). However, I did a simple alcohol extraction and felt great results when taking the tincture. Maybe it the usnic acid becomes more soluble as the other constituents are extracted out??
Bibliography:
Gladstar, R. (2001). Rosemary gladstar's family herbal. North Adams, MA: Storey Books Publishing.
Hoffman, D. (2003). Medical herbalism. Rochester, VT: Healing Arts Press.
Skenderi, G. (2003). Herbal vade mecum. New Jersey: Herbacy Press.
Tilgner, S. (1999). Herbal medicine from the heart of the earth. Creswell, OR: Wise Acres Press.
Usnea. Retrieved on August 2, 2006 from:
http://www.holisticonline.com/Herbal-Med/_Herbs/h322.htm
Usnea. Retrieved on August 2, 2006 from:
http://homepage.eircom.net/~hedgerow6/large-usnea-dec.JPG
Usnea. Retrieved on August 2, 2006 from:
http://www.herbological.com/usnea.htm