Common Names: Horehound, White Horehound, Bull's Blood, Seed of Horus
Scientific Name: Marrubium vulgare (Black Horehound is Ballota nigra)
Family: Lamiaceae (mint family)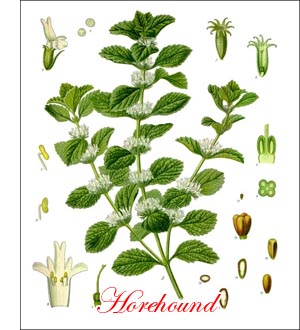 Parts Used: Flowering herb
Harvesting: Harvest the leaves and flowers in the spring, just as the flowers begin to bloom. This is when the plant carries the most volatile oils.
Qualities: Bitter, Aromatic, Drying, Stimulating, Relaxing, Cool, Neutral
Constituents/Nutrition: Bitter principles, Phenolic acids, Flavonoids, Volatile oils, Saponins, Alkaloids, Phytosterols, Tannins, Mucilage, Resins, Diterpene Lactones (Marrubiin – bitter lactone), Diterpene Alcohols
Properties/Actions: Aromatic, Bitter Tonic, Choleretic, Expectorant, Antispasmodic,
Demulcent, Mild Sedative and Laxative, Vulnerary, Emmenagogue
Uses/Indications: A great Respiratory and Gastrointestinal herb. Horehound increases the appetite and decreases fullness/flatulence, especially when related to impaired bile secretions/flow. Horehound also aids the respiratory system by decreasing inflammation and spasms (Bronchitis, laryngitis, asthma, coughs – especially when related to thickened mucous, or dry coughs). As with Mullein, Horehound increases fluid/mucous production, which helps break up thick mucous and promote expectoration, and soothes the mucous membranes.
Folk History/Magical Uses: Magically, Horehound was used to break a magic spell. It was also used by Hippocrates for infertility in women. Horehound was mentioned in the 16th-century as an herb to increase mothers milk supply. Used as a honey or syrup for coughs. Horehound has also been used to decrease fevers and treat malaria, and it may also be useful in normalizing irregular heartbeats. Horehound is believed to be one of the herbs used during the seder feast of the Jewish Passover celebration to remind those present of the bitterness of captivity in Egypt.
From King's Dispensary, 1898:
"Action, Medical Uses, and Dosage.—Hoarhound is a stimulant tonic, expectorant, and diuretic. Its stimulant action upon the laryngeal and bronchial mucous membranes is pronounced, and it, undoubtedly, also influences the respiratory function. It is used in the form of syrup, in coughs, colds, chronic catarrh, asthma, and all pulmonary affections. The warm infusion will produce diaphoresis, and sometimes diuresis, and has been used with benefit in jaundice, asthma, hoarseness, amenorrhoea, and hysteria; the cold infusion is an excellent tonic in some forms of dyspepsia, acts as a vermifuge, and will be found efficient in checking mercurial ptyalism. In large doses it purges. It enters into the composition of several syrups and candies. Dose of the powder, 1 drachm; of the infusion, or syrup, from 2 to 4 fluid ounces; specific marrubium, 1 to 30 drops."
Research:
Antioedematogenic effect of marrubiin obtained from Marrubium vulgare.
Systemic administration of Marrubin (a constituent of Horehound) shows non-specific inhibitory effects on pro-inflammatory compounds. Granted, the research was done on mouse ears, but I would bet, from its historical uses, that whole Horehound would work great on human ears too 🙂
J Ethnopharmacol. 2006 Jun 2
Cautions/Side Effects: No known side effects or drug interactions; use with caution in pregnancy due to its emmenagogue effects.

Preparation/Dosage:
1 tsp in 1 cup of boiling water, infused for 20 minutes, TID
6-12g/d 1:1 – BHP
2-4 ml/day – Kathleen Meyer
4.5g, or 2-6 Tbsp. of fresh juice – Commission E
Recipe:
HOREHOUND COUGH DROPS
My variation of a recipe by Christopher Hobbs
1⁄4 ounce Horehound leaf (Marrubium vulgare)
1/4 ounce Usnea (Usnea spp.)
1/8 ounce Sage leaf (Salvia officinalis)
1/8 ounce Mullein leaf (Verbascum thapsus)
1/8 ounce licorice root (Glycyrrhiza glabra)
1⁄4 ounce wild cherry bark (Prunus serotina)
1⁄4 ounce lemon peel
1 quart water
1⁄4 cup brown rice syrup
1 1⁄4 cups honey
5 drops essential oil of choice (peppermint, eucalyptus, orange, lemon, cinnamon…)
Simmer herbs in water for 10 minutes, then remove from heat and let steep, covered, for 20 minutes. Strain tea and compost herbs. Continue to simmer tea, uncovered, until the volume is reduced to about 1⁄4 of the original (Make sure it really is boiled down well. If not, you will have to boil off the water before it will reach 290 degrees). Add brown rice syrup and honey and simmer for 20 to 30 minutes. (I've had to simmer it for a few hours before when I didn't boil it down enough before adding the honey and syrup.) The mixture should be very thick; use a candy thermometer to ensure that the candy will be brittle and not sticky when it cools. Heat slowly to 290 to 310 degrees, being careful not to scorch the mixture. Remove from heat and let cool to about 180 degrees (the mixture will still be liquid, although thicker). Stir in the essential oil of your choice to flavor candy. Mix well, then pour mixture into an oiled, shallow glass baking dish. (Be sure it is very well oiled or it will get stuck to the dish!) Place the dish in the freezer. Check candy every few minutes and remove from freezer when thick enough to score with a butter knife. Mark the size you want the finished candy to be. The candy mass should be at a point where it will retain indentations made by the knife. Put the dish back into freezer until candy is very hard. Take it out and break the mass into little squares. Wrap each square in a small piece of waxed paper and carry some with you for use throughout the day.
My Thoughts: Along with Hyssop, I have used Horehound frequently for winter coughs and cold. I really like the taste and can feel an immediate relief to my breathing and movement of congestion. It's also great for kids, who have no problem taking Horehound candy for their coughs!
Bibliography:
Holmes, P. (1998). The energetics of western herbs, vol 1. Colorado: Snow Lotus Press.
Horehound Cough Drops. Retrieved on August 9, 2006 from:
http://www.yourwholenutrition.com/readon.asp?id=242
Horehoundherb. Retrieved on August 9, 2006 from:
http://www.plantguide.org/_images/horehoundherb.jpg
Horehound, white. Retrieved on August 9, 2006 from:
www.british-wild-flowers.co.uk
Magic and medicine of plants. (1990). New York, NY: Element, Shaftesbury.
Marrubium. Retrieved on August 9, 2006 from:
http://www.henriettesherbal.com/eclectic/kings/marrubium.html
McVicar, J. (1994). The complete herb book. London: Kyle Cathie Limited.
Mother's Herb Garden, White Horehound. Retrieved on August 9, 2006 from: http://www.motherearthnews.com/Homesteading_and_Self_Reliance/1985_July_August/Herb_Garden__White_Horehound
Pengelly, A. (2004). The constituents of medicinal plants. Cambridge, MA: CABI Publishing.
Skenderi, G. (2003). Herbal vade mecum. New Jersey: Herbacy Press.
Tilgner, S. (1999). Herbal medicine from the heart of the earth. Creswell, OR: Wise Acres Press.