Toby built his first top bar hive today. It came out really nice! Robbyn, he didn't really follow any design. He mainly talked with a few friends who have built them before and put together what he thought would work well for us. It's 12 inches deep and long enough to fit 28 frames. It has a partially screened bottom for ventilation, and a tin top that you can lift off to check on them. We had some small cell beeswax, so we cut strips to put in the frames for the bees to build on them. The frames are 3 sided without a bottom, so the bees will probably make more of a rounded comb design.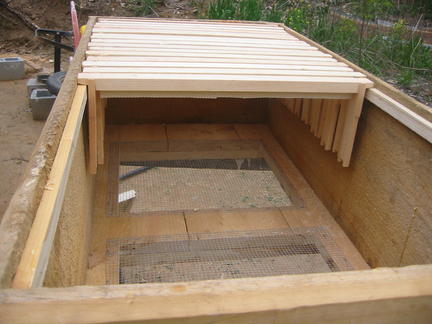 He drilled some entrance holes for them, too.


I don't know if we will collect honey from this hive or just let them be. Right now, it's sitting on some concrete blocks and nicely viewable from our kitchen window. We expect we will have another swarm from our other hive, so we'll put the swarm in here.
While he was doing that, I closed off a section of the chicken yard and built a little brooding box for Ralph. She wasn't too happy about being moved at first, but she quickly found her eggs and went back to sitting on them.
And here is the house so far. They need to do all the trim work, but the main body color is done. We were supposed to have a creamy yellow, but the painter called me the night before starting and said he really didn't think the yellow was a good idea. He said yellow is the quickest color to fade and doesn't cover as well. He had mentioned this before, but I really wanted to have a yellow… but when he stressed this again I felt like we needed to go with something else. So, we picked out a grey/blue that looked really nice on paper. Unfortunately, I'm really not that happy with how it turned out on the house. I was wanting a cheery, light color that would stand out from the green around it, but still look like it belonged. What I got was a cold color that sticks out like a sore thumb. It's not a bad color, I just don't feel like it fits. I know it will look much better once the trim is done. When we get screens, I may paint the frames with a pale yellow or something to lighten up and warm the house color.

Inside, we are done with all the messy work, so we are trying to get things moved in. Then, we can take care of the other little details while we are living in and enjoying our house. Here's how the kitchen counter tops turned out. We just need to put up a back splash. (I know, it's hard to see 'cause of all the crap all over them… I'll take more pictures soon)