Sorry for the slack in posting. All is well here.. just busy. We are settling into the house and really enjoying the space and amenities! Kaia and I are especially having fun cooking together (something that was really hard to do in the little cabin). We ate so poorly the past two years. I had no desire to cook and PB&J was often a main meal. So now, I'm trying to get back on track with healthy, whole foods and lots of local fresh fruits and veggies. I've singed up for a weekly recipe mailer through Cooking Traditional Foods. Every week she sends 6 recipes and a dessert, shopping list for those recipes, and when to prepare stuff in advanced. Her site also has recipe and discussion forums, and the recipes are loosely based on Weston Price's ideas. It's been really helpful in getting back on track with cooking. I figure I'll do this for a while until I get into a good rhythm. My only objection is that 5 of the 6 recipes include meat. That's a lot of meat for me (and gets expensive), so we may use bean and other substitutes.
The animals are doing pretty well. Ralph has decided she has had enough of being a mom and got off the nest. So, no chicks from those eggs. (We can't invest in an incubator right now.) The cats are all adjusting really well. They have already started snuggling up together, which is really cute. Suki went to the groomers last week and when I picked her up they said a lot of her hair was falling out and she had redness and bruising on her skin. She looked almost bald in patches. I took her to the vet the next day and the blood work showed that her clotting time was a little slow. They think that she either had a really bad allergic reaction to something or that she may have gotten into some rat poison. So, she is on some Vitamin K to get her to stop bruising and increase her clotting time (this is the antidote for Rat poison, too). Her skin is looking mostly better already.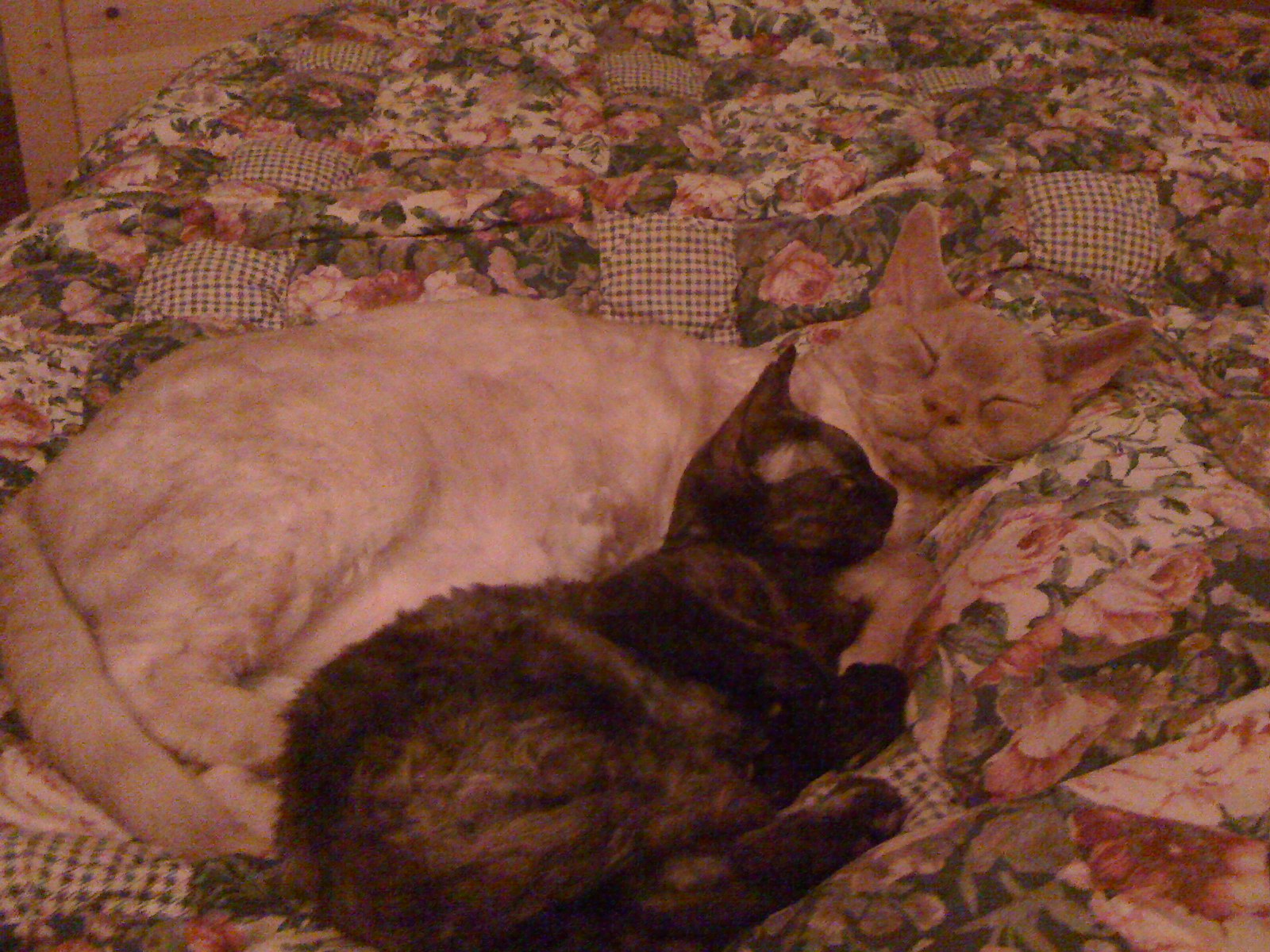 Business is going well for me. I've got as many clients as I can handle right now, which is nice. I'm excited to have my office space set up in the cabin. It will be so nice to be able to hear the frogs and the birds during my consultations and not the 18 wheelers rolling by. I've had to cancel a few appointments this past week, cause my forearms and hands are covered in poison ivy. Because of the pattern on my arms, I think I might have gotten it off of Suki. I don't think I've ever had it this bad (I usually only get a blister or two). Both arms look all bumpy and scaly. I've been using high dose licorice powder (as a paste on my arms, and as a tea) to decrease the swelling. It works well.
I'm giving an herb walk this weekend at the LEAF festival. I got a free ticket the the festival in exchange for the class. So, Kaia and I are going to spend the weekend playing, dancing, swimming, hooping, and having fun!!!