We had the soil blown onto the roof today! They brought it in a mulch blowing truck and it took them ~3 hours total, not including all their travel time. Toby calculated that it would have been ~1012 5-gallon buckets for us to haul it all onto the roof by ourselves. I'm so glad we hired the blower instead!!!
Here they are, just getting started on the top roof. You can also see the finished painting. The color didn't turn out all that bad.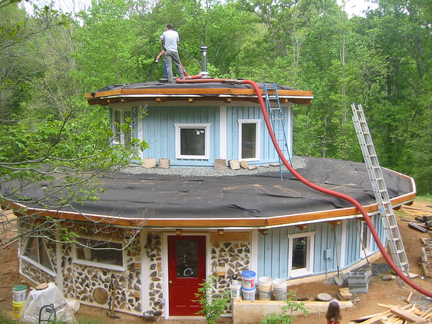 Here they are almost done…

The soil didn't always flow easily through the hose. Sometimes you would hear a change in the tone of the pump and you would know that a huge amount of soil was about to push through. The guys would brace themselves and hold tight to the hose while they waited for the soil monster to burst out. It was really cool.
Here's a close up of the soil. As you can see, it is mostly chunks of slate with a little compost matter mixed in.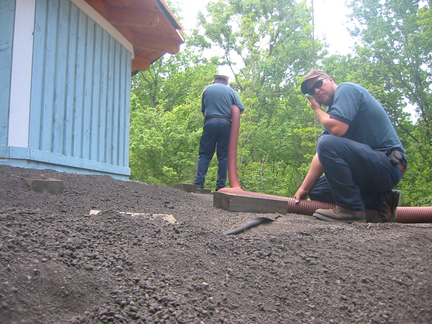 Our plants are being delivered next Thursday, so we hope to plant the roof next weekend! I can't wait to see how it all looks!!