OK, so I finally got out on the roof and got some pics for you. Kaia and I woke up early and sat out in the hanging chairs on the roof to eat breakfast. It was nice and cool, and very leisurely 🙂
These pictures show the stones leading from the window/door to the chairs:

Here is some thyme that is thriving on the roof! (and a crazy kid who wants to be in every picture!)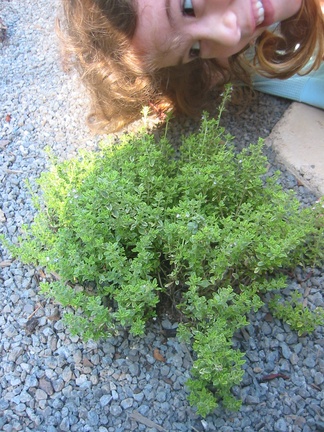 Another shot. There is a dianthus blooming in the foreground. I love the look of this plant. We tried planting some little seedlings, but they didn't make it. This was was a larger potted plant and did well.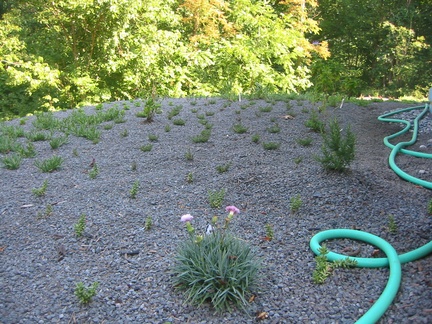 Here is a blooming Monarda fistula, also called 'wild bee balm' or wild bergamot' (sorry for the blurriness.. I have a crappy camera). I have two on the roof that were given to me by a friend. It's one of the medicinals on the roof, though I've not used it much. I love the feathery purple bloom!

Here is a great patch of roof! The Delospermas (or ice plants) are doing fantastic. Here are a pink and a yellow variety. Later in the day, when it warms up a little, this part of the roof is covered in blooms!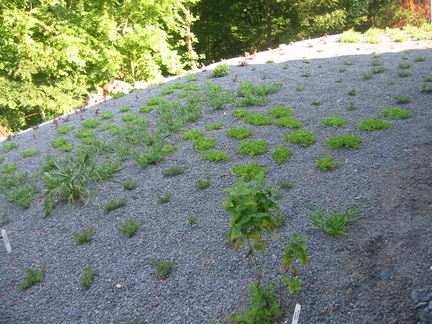 Not all of the plants are doing so well. The Roman Chamomile have mostly died. The calendula are blooming and hanging in there, but scraggly. And you can see in this picture that some of the sedum seedlings just aren't growing very fast. I'm hoping if they make it through the heat of the summer, that they will have time to settle in and establish roots in the fall, before the cold hits.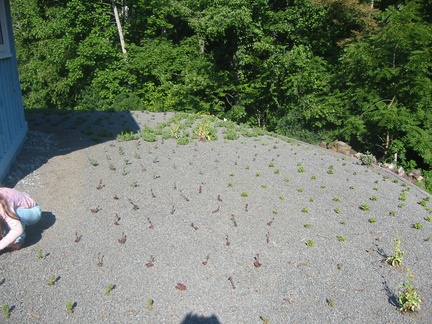 The California Poppies are blooming nicely, and the red yarrow is sending up lots of new greenery!

And here's a shot of another area where the delosperma are taking off!