This weekend, Toby started working on the front steps. We are putting in 4 steps that come from the drive to the front door. We will also be putting in a little landing-type porch, just to keep the mud and dirt from coming in the house all the time.
Since you always get the butt and back shots of Toby at work, I made him turn around this time:-)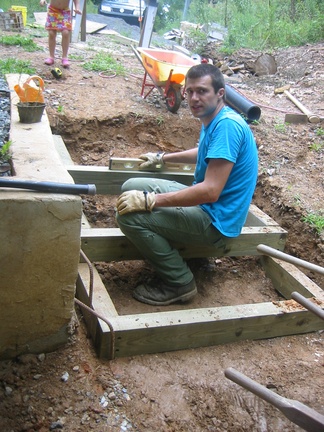 The steps will be filled in with gravel once he digs out a little more clay for a drainage pipe to help divert the water that comes down the stairs.
On Monday, Kaia and I took a little drive to get some new chickens. Our three old ladies are looking bored and seemed like they might need some company. They are also not producing many eggs these days. So, here are the new ladies:
The two small ones in front are Speckled Sussex and they are probably about 3-4 months old (the old ladies are in the background).

This cute little one is Poodle Noodle. She's our Silkie and she's also ~4 months old. She will be a smaller chicken, but still lays nice eggs and we just couldn't pass up getting her.

Here are the other three. They are all about 6 months old. The larger one is an Ameraucana Rooster! I never really wanted a rooster in our bunch 'cause they can be so rough with the ladies, and so loud. But this breed is supposed to be more gentle, and if we hatch any of the eggs he fertilizes, those chickens could lay brown, blue, or olive colored eggs! Cool, eh? His name is Crowy. The whitish lady below him is Biscuit and she is an Ameracana female (so she'll lay blue eggs). The orange lady is a Salmon Faverolle. I'd never heard of this breed until I went out to get the chickens, but she is very docile, friendly and supposedly will be a good layer. She is also really cute! I'll have to get a better picture of her for you.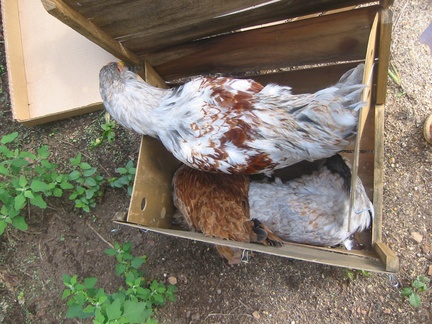 And just for the snuggle fun of it, here's Kaia and her little friend Max 🙂