Progress on the guest house is slow going because Toby only has a day or two a week to work on it, but it's looking really cute!
This is the view as you drive up: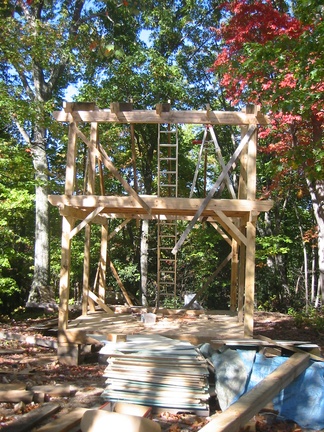 This is the side view, where the front door will be: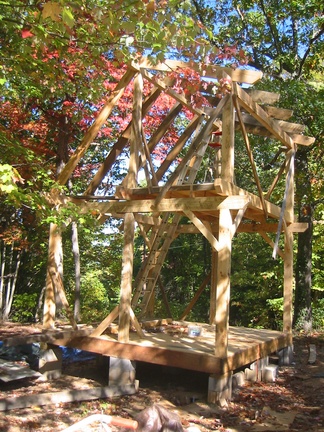 The other speckeled sussex died this morning. We don't know what happened to her. She was supposed to be a full sized bird, but didn't really seem like she was growing normally. Her body stayed fairly small, so I thought maybe she was actually a bantam. But, her head just looked like it never got any bigger. Yesterday she was sluggish and the other chickens started picking on her. They didn't cause any physical damage that we could see, but as the day wore on, she just sat down and stopped moving. She died over night. Any thoughts?

Kaia and I drove up to Banner Elk for the Woolly Worm Festival this past Sunday. It's a big fall festival where people bring their woolly worms and race them up a string. The winners of the individual heats race each other until there is one final winner, who gets $1000 and their worms color pattern predicts the upcoming winter weather. They haven't posted who won this past weekend or what the winter prediction is, but supposedly, over the past 20+ years, the worms have a 85% positive prediction rate :-)!
Kaia and I brought our two worms home and hope to keep them through the winter. In the spring they will turn into Tiger Moths. My worm is the one on top of the paper tube… his name is Arnold. Kaia's is the one climbing in the tube opening and her name is Sunflower. They were both great racers when they were on our clothes, but once they got on the string they kept turning around and going backwards!