Here's all the lard after it was canned. Looks like creamy milk, doesn't it! I'm really enjoying using it to cook up eggs, veggies, etc…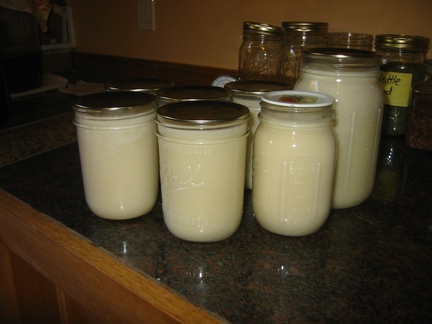 Kaia and I spent some time making some holiday soaps. This was a batch of Wintergreen/Sweet Orange soap, and she's mixing in a little cinnamon powder 'to make swirlies!', while enjoying a piece of Halloween candy.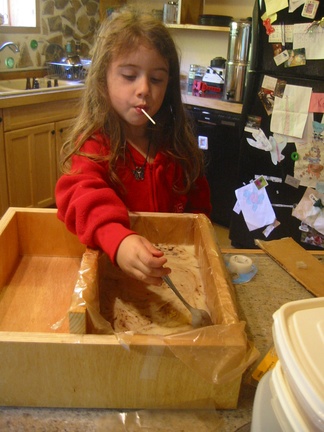 The next day, we cut it up into pieces and will let it sit 3 weeks before using it (so it cures and isn't so caustic). The first batch made 20 pieces of soap (~3 oz each)

The second batch we doubled and ended up with another 44 bars! This one is Clarysage/Ylang Ylang with swirlies of cardamom.

We've been getting the garden beds ready. Made 8 raised bed frames with scrap wood. Hopefully that will be enough to get us started this spring. Toby tilled the soil and mixed in lots of leaves and some roof dirt (which will help break up the clay and add some compost). I need to add more compost, manure and soil and will plant some rye for the winter.

We gave Kaia a mini-sling to practice carrying doll babies… But she found a fuzzy, wiggly doll baby she likes better… Snuggle or torture? It depends on who you ask.

She's also decided she wants to learn how to knit. So she plopped down in the rocker by the fire (an appropriate place for knitting, I think) and pretended for a while. We are going to start a kids knitting group with some other moms when we get back from Disney.

And, what post would be complete without snuggling kitties… Isabella, Daisy, and Chub Chub Max.