We all had an amazing time at Disney World! (I never thought I'd hear myself say that!) Kaia and I met Toby down in Orlando last Sat. (He was already there finishing up a conference). When we got off the plane we were welcomed by sunny 70 degree weather with a gentle breeze, and it stayed that way the whole time we were there! Absolutely beautiful! My Uncle works at Disney part time, so he got us all the discounts he could (included free tickets to the theme parks!) and booked us into one of the Resorts. We stayed at the Disney Carribean Resort where there was a lake surrounded by tropical plants, and many pools for Kaia to chose from. (I grew up in Miami and didn't realized how much I missed the tropical plant life. The ferns and palms are so prehistoric looking… ) Everyday the housekeeper made animals out of towels to keep Kaia's stuffed doggie company while we were at the parks 🙂
On Sunday, we went to the Magic Kindom. We got there before the gates opened so we wouldn't have to wait in too many ride lines. But, the crowds weren't bad at all. We had no wait at all for many of the rides… Dumbo, It's A Small World, Peter Pan's Flight…. Kaia had her picture taken with Ariel, which she loved! We went back to the hotel for an afternoon break and planned on going out to the fireworks that night, but I was a little dehydrated from all the travel and walking around, so I decided to stay in and put my feet up.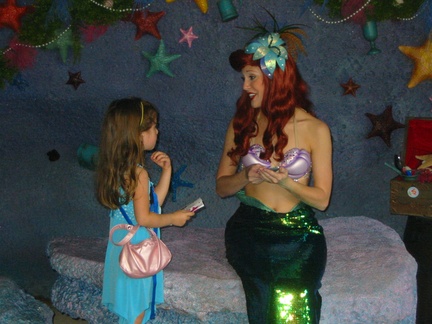 Monday, Toby and Kaia went back to the Magic Kingdom and hit more rides, had pictures taken with Jasmine, did some shopping… I stayed at the resort and relaxed on the 'beach'.
Tuesday we spent the day at Epcot. There were few people there and we didn't wait at all in lines.
I really can't remember the last time we truly went on a vacation… I mean, we've enjoyed family reunions and trips to the beach, but I don't think we've ever had a vacation like this. All the while, we tried our best to eat well (locally and sustainably) and not contribute to non-sustainable consumerism. I was happy to see that some of the restaurants at Epcot are supported by food grown in their own research nursery (that you can ride through)… they are working on organically and intensively grown crops.
Now, if you ask Kaia what her favorite part of it all was, she won't say meeting Ariel or Jasmine, she won't mention the three times she rode the carosel, she'll forget about all the times she begged to go back to the swimming pool… She'll say "Shopping!!" Who raised this child??? When did she become a shopper?? But she absolutely loved walking around the shops and looking at all the disney stuff. Ugh!