I've been doing lots of baking lately, and am really enjoying our new kitchen! I never have made much bread… maybe a little here and there in my bread maker. I have a vague memory of making bread with my mother when I was young and thinking how hard it was to get it kneaded and how much time it took to make. But, now that I've gotten into making my own bread, by hand, I'm really enjoying it. I love the kneading part! Plus, the smell of fresh baked goods is just so homey and comforting! I found this recipe for Grandmother Bread and love how simple it is. It comes out great every time. I've tried the white bread version, the whole grain bread, herbed cheesy bread, and cinnamon swirl. MMmmmm!!
Tonight's mix was a white bread loaf that I will use in the thanksgiving stuffing, and a cinnamon swirl (It would be really easy to adapt this recipe to stuff it with pesto, or ham and cheese, etc. instead of cinnamon sugar)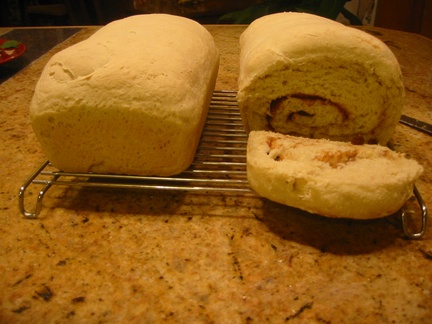 What? You can't really see the sweet, gooey goodness well enough? Here, have a close up!