I found a fantastic baby bootie pattern from Knitting Daily and had to buy it. The info said it is 'intermediate' knitting level, and I'm definitely not there yet, but they were too cute to pass on.
I'm very happy with how they turned out and proud of myself for making them 🙂 It was a great learning pattern for me. I went to knittinghelp and watched lots of videos to learn some of the stitches the pattern called for. I learned how to knit two colors with 'intarsia' method, learned the difference between stockinette stitch and seed stitch, learned how to kf&b, ssk, p2tog through back loop, and how to make an I-cord. They knitted up really fast considering all the new stuff I was doing. I basically worked on them two evenings and a day.
Here I am… large and in charge: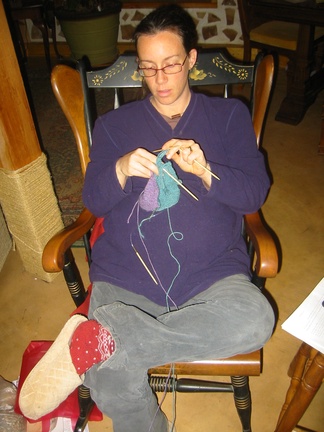 This is what the pattern looked like before I sewed up the sole and back of the bootie: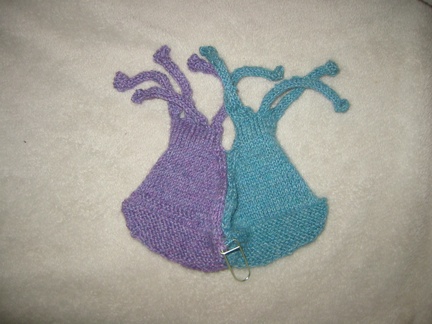 Here they are… the knitting is done and they are ready to be felted.

I'd never felted anything before, but the ladies at the yarn shop told me you couldn't do it easily in a front loading washer. I did a bit of research and found that, though it is possible to felt in a front loader, it takes 3-4 cycles in the wash…. seemed like a waste of water. So, I looked up how to felt by hand and that seemed pretty simple. We keep our water heater set on 120 degrees, and I wanted it hotter for the felting. So, I boiled water hot enough that my hands could still stand it, poured it into the sink (with the drain closed) added a tsp. or so of dish liquid, put on some rubber gloves and went at it. I kneaded and rubbed roughly for 5 minutes then took them out to see how they were doing. I also rubbed them up against an old cutting board that has lots of texture to it. Then I shocked them with cold water and put them back to the hot for about another 10 minutes of rough treatment, and they were done! They should fit the baby's newborn feet.