We started Kaia Camp Day 4 off with a little exercise!  We headed to the Dojang when Kaia, Toby, and I take Tae Kwon Do and did a little hooping.  It's the first time I've hooped since last November when I was 32 weeks pregnant.  I was worried that I wouldn't be able to dance/hoop like I use to, but I fell right back into it and it felt great!
We went from there straight to the local library where the Balloon Fairy was teacing everyone how to make balloon hats.
Then it was back home to make some flower fireworks.  We got the idea from 5OrangePotatoes (I love that blog:-)  We went outside and picked all the white flowers we could find and put them in wine glasses of water with food coloring in them.  We had Queen Anne's Lace, Yarrow, Daisies, and Onion scapes.  It took a full day before we really noticed any changes, but they came out pretty.  The darker colors worked much better for us. (oh, and that's a pink cosmos in there!  Not a white daisy turned pink:-)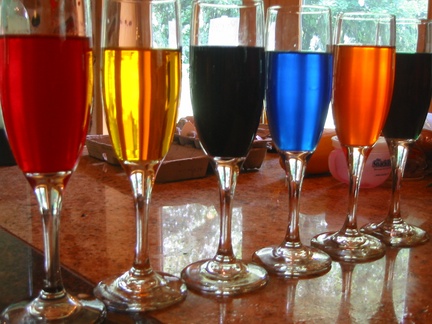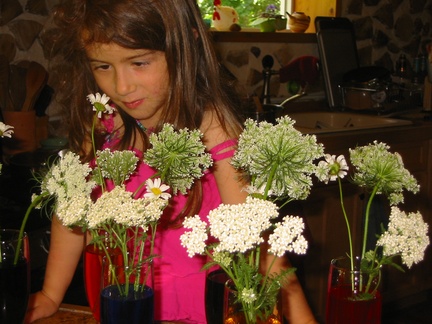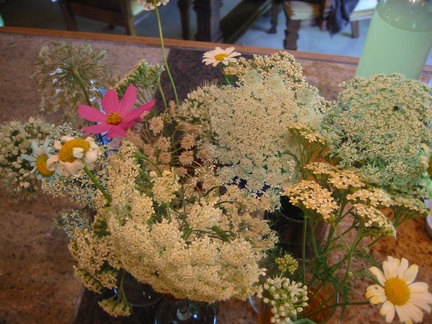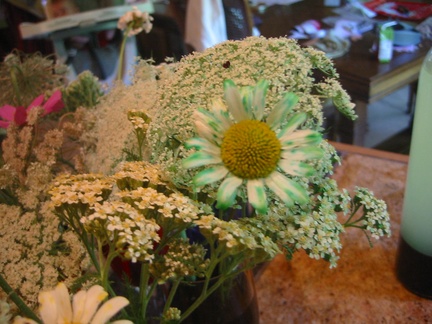 After a little lunch break, we made an "I Spy" jar (This idea from The Magic Onions, another blog I love).  Kaia gathered lots of little trinkets and put them in a glass jar.  Then she filled the jar with sand, and shook it up. (rice probably would have worked better, 'cause the sand ended up making the jar a little cloudy).  I would say "I spy, with my little eye, something with a hole in it" and she would have to turn it around until she found the shell with a hole in it.  It's a fun game… maybe we'll make another one with rice to keep in the car for road trips.
Leif enjoyed the jar too, but he was really only interested in the effects of cold on the gums 🙂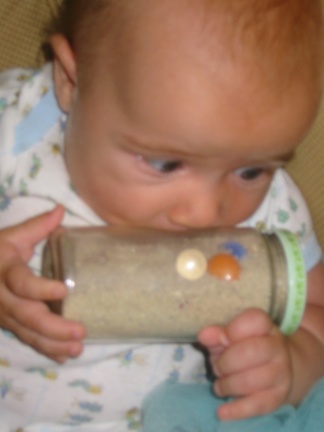 For the last day of Kaia Camp, we took it pretty easy.  We started out with a little Tae Kwon Do.  (Kaia took the adult class with me and did great!!  I'm so proud of her… she's really doing amazing!  And the whole belt system works great for her because it gives her something to strive for and she feels like she's really accomplished something when she gets a new belt)
After that, we had a lot of reading time, knitting time, garden time, and just relaxing fun!
By the end of the week, everyone was tuckered out!