Let's start our morning with some daredevil antics!
Don't see anything wrong with this?
Let's look again: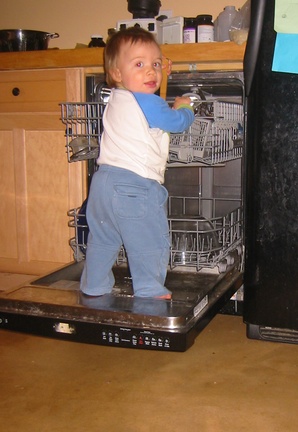 Then off to a sweet farm tour where we enjoyed some fabulous home made jellies and ice cream, and I scored an angora fleece from this guy: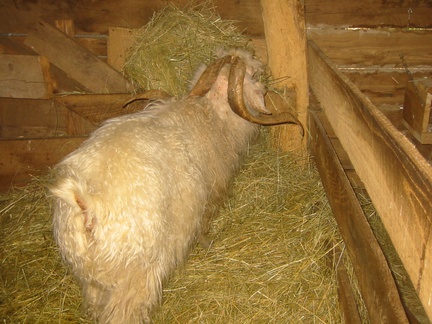 Then we spent the rest of our day enjoying the beautiful spring weather: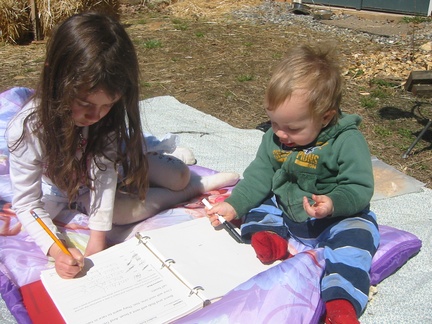 (You didn't know chickens can read, did you?  Well, our chickens can!)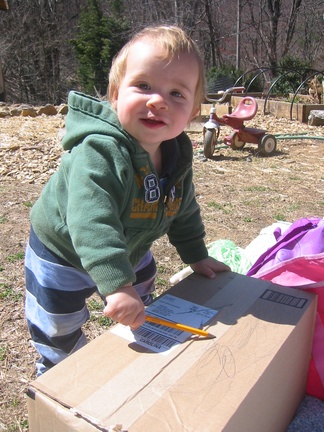 What I didn't get was pictures of the fabulous sand creation that we created!  We got a bucket full of sand from the pile in our back yard and Kaia put all kinds of stuff in there.  Then we all went dinosaur fossil hunting.   Even Leif was getting into it.  At one point, Kaia pulled her hands out of the sand and said, "Hey mom!  Coprolites!"  I was thrilled that she remembered the word for fossilized dinosaur poop.  Then, I looked at what she was holding in her hand and realized that it really was poop!!  Turns out the neighbor cat has been using our sand pile as a littler box!!  Needless to say, we all stopped playing archaeologists and went inside to scrub off!!! 🙂
Still, it was a fabulous day!