The 2 year old roof.
Spots are filling in pretty well.  I think I'll give it one more year and then plant a few more things if needed.
I absolutely love all the color on the roof right now.  It's like a patchwork quilt!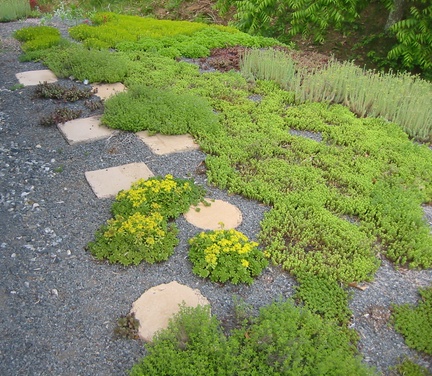 And the yard is coming along, too.  After 2 years of having huge piles of dirt and rubble in the yard, we finally had it leveled.  Now I have the perfect spot for my berry garden!!!  Yum Yummy!!
We also put up a bear fence for the beehives that are coming this week.  I finally painted the chicken coop… I just need to trim it in yellow and put some color on the windows… green or blue maybe?
I also made myself a Medicino sundress.  I love this pattern!  It's so simple and such a cute dress!  Kaia wanted to pose in her dress with me.
Kaia has one more week of 'official' school left.  We will continue with math and reading through the summer, and add in whatever else she is interested in.  We are definitely going to do a few lessons on Greek Mythology!