We've had a great spring here on our land.  Things have felt really productive.  But, I have to tell you, we are beat!  I wake up in the morning, jump out of bed and get going.  Laundry, taking care of the animals, garden care, kitchen clean up, etc. all comes before breakfast.  Most nights I spend preparing for Kaia's schooling, sewing, cleaning, or researching one thing or another on the internet.  Weekends we do chores around the land (and we usually don't get done with our list of 'to do's).  I'm not complaining.  I'm simply stating how things are right now.  But I'm starting to feel resentful that we have very little down time, fun time, or time to play with the kids.  We have been working towards this life and lifestyle for years.  We now have our own land (25 acres!), our own house (built with our own hands and very earth friendly), we have chickens and gardens and orchards and bees and cottages.  And each of those things requires upkeep.  Well… we are tired!  We are re-evaluating this life style.  We want to live more gently, but this is definitely not more simple.  We don't have time or energy for those bonfires and potlucks with friends that we wanted.  We have little time for travel and very little time to relax and read.  Having Heidi here helps tremendously, but she has been gone for much of 2010, and we won't always have her here.  So, we are taking a look at our life and trying to decide what things we truly desire in it, and trying to figure out how to have those things and keep a simple and earth friendly life.  There may be some changes in store…. we'll see.
Kaia got some goggles for swimming… Leif stole them!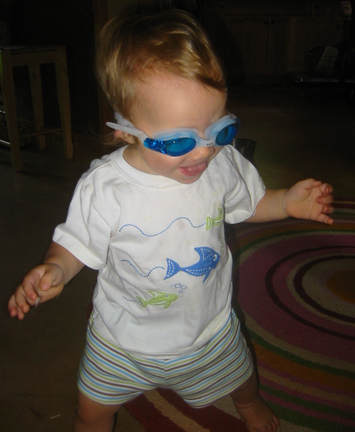 Yes, the goggles work more effectively if you stick your tongue out.