I've been wanting to post about all the things we've been up too lately… projects, crafts, homeschooling, the ducks, the land.  There's always so much to share.  But, I've been finding it hard to take the time to sit down at the computer when life has been so full.  With having the kids at home, I'm generally only able to sit down after they are both asleep, and that could be 10 pm.  If we come across a craft or something that seems particularly useful to share, I will do my best to post it.  Until then, there are always pictures.
Warming up by the morning fire.  Don't you love the 'bed head'?
Me – Umm, Leif?  What are you putting in your car?
Leif – Haven't you ever heard of a Clown Car, Mommy?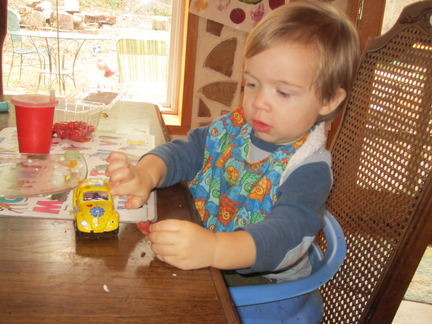 Leif – Well, this is a Bacon Car.
Note the two cherry tomatoes that somehow fit in there too!