It was almost exactly this time last year that we had the big snow of '09 and got snowed in for a week.  Well, we are snowed in again and actually have been since Christmas.  We've played in tents, made snow cream, baked, gone sledding, read, and just relaxed.
The duck surprised us on Christmas morn with their first eggs (finally!!)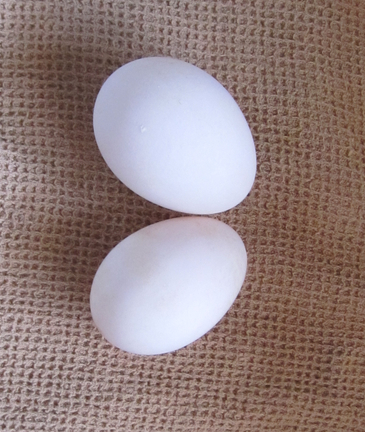 I didn't have any other eggs on hand for comparison, but these eggs were Large and Extra-Large!  Can't wait to see how big they are going to get after they've been laying for a while!  Very tasty!
Snow Angels!
Snow Suki!
Snow Leif (He looks unhappy, but he asked Toby to carry him back up the hill like this!)
This is only a small part of our drive way!! It's easy to get lost in your own world when you are out in the country.  We are only 10 miles from downtown Asheville, yet in times like this, when the rest of the world is going about their usual daily lives and we are still snowed in on our mountain, you forget that things are going on outside of our cove.
Drying Mittens.  Yes those are Leif's little piggies that I just finished.  Both Leif and Kaia were getting snow up their mittens, so I sewed on soem stretch felt to make long cuffs.  Works like a charm!
Recharging
Learning about electricity with her dad.  She got this Brain Box as a gift and loves it!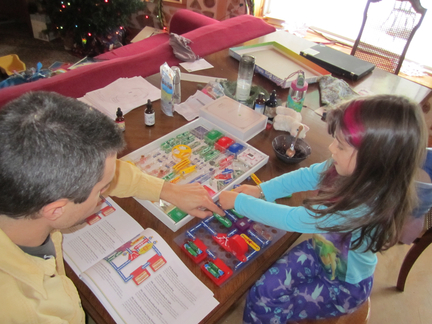 Temporary friends.  They agreed to share the rug since it is in front of the fire place.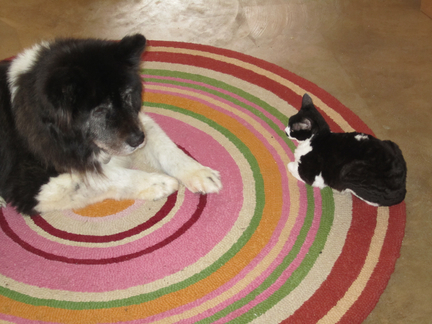 And these two will gladly share a box.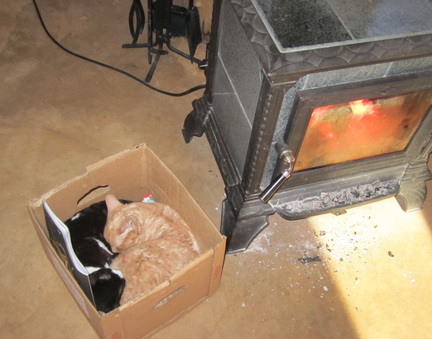 This crazy little man has discovered that he likes baking.
While I'm in the kitchen, and sometimes when I'm not, he will slide his stool up to the counter top, grab a pot, and get cooking!
Yesterday evening, I found this waiting for me when I went to clean up after dinner: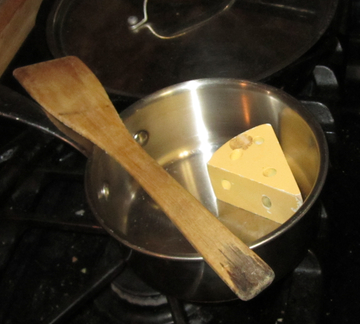 I think he was starting on a fondue!  Yummy!!
Hope you are all having wonderful holidays!!