Kaia's been using Right Start Math as her basic curriculum for the past 2 years.  It's a great curriculum, but she's gotten bored with worksheets.  So, I've been trying to work in more 'living math' done through experiments and hands on activities.  When I saw this activity with Peeps, I knew we had to try it out!  Kaia isn't ready to take on algebra fully, but there's no reason not to introduce her to it.
We laid out 5 peeps and she easily told me how much space they would take up if each peep were 2 inches and there was a 1/2 inch space in between each peep (12 inches). So, I put out 10 peeps and she told me that they would take up 24 1/2 inches.  We discovered that the number of spaces between the peeps was always 1 less than the number of peeps.  3 peeps, 2 spaces.  10 peeps, 9 spaces…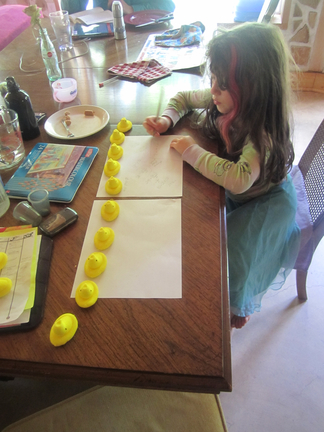 We discussed that we could learn how much distance the peeps would cover even if we had 6549 peeps, or any number for that matter.  So, then we set up our equation.  We called the number of peeps P.  If you multiply then number of peeps by 2 inches you will get the distance that just the peeps take up.  So that leaves us with the spaces between them.  If you take the number of peeps, P, and subtract 1, you get the number of spaces.  Then multiply that by 1/2 inch and you get the distance that the spaces would cover.   The final equation looked like this:
2p + (p-1)/2 = the distance the peeps would cover.
We decided to plug 8,000 peeps into our equation just to see how long that line of peeps would be.  We were happy to discover that if we had 8,000 peeps we could line them up from our front door, down the hill, past our 3 neighbors and to our mailbox 1/3 mile away.  (Peeps, you are welcome to send us those 8,000 peeps so we can give this a try!!  The chocolate covered ones are just fine, too!)
And of course, the reward for the math…