A big WELCOME to all of you coming over from the NY Times! Â It's really sweet to have you here. Â I thought I'd put up some more recent pictures of the outside of our home for you.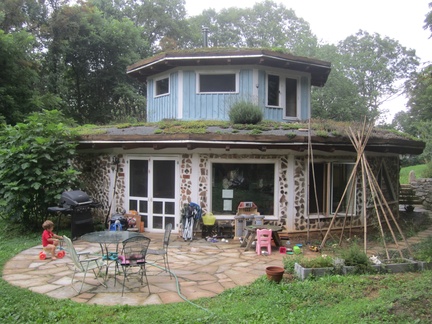 We've been in our home for 3 years now! Â The roof is filling in nicely. Â It's planted mostly with varieties of sedum, but that big plant in the middle is a lavender!! Â I want to put a few more of those up there. Â They seem to do very well! Â And see that huge bush climbing up the side of the house on the left? Â That is one of our fig bushes!!! Â If the squirrels are willing to share, we might just get our first figs this year! Â Woohoo!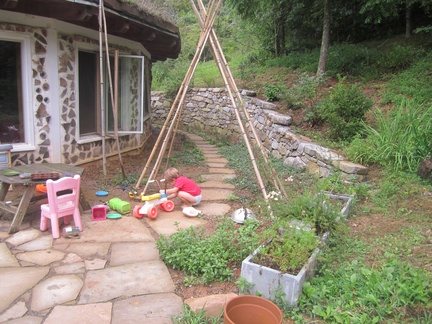 The patio, walkway, and wall are all settled in (this was a new addition last summer). Â The periwinkle is filling in nicely around the stepping stones. Â We also have a patch of Chocolate Mint growing here. Â The kids love add it to cookies and smoothies, or sprinkle them on top of ice cream. Â Yum!
The roof has color throughout the whole year. Â Flowers in the spring and summer and colorful leaves in the fall and winter.
This picture is from earlier this spring. Â The roses were here on the land when we moved. Â Every spring we make a new batch of rose petal jam and in the fall we gather the rose hips for medicine!
Thanks for visiting!