Toby and the kids have been at the beach for the past 4 days. Â I decided to stay here, in the cool mountain weather, to have a little time to myself and get some stuff done. Â (I love 'getting stuff done' time 🙂
Aside from aerials, movies, a massage, archery practice, and other joyful stuff, I also made 5 gallons of Elderberry/Raspberry mead!!! Â I can't wait to see how it turns out! Â (Waiting is a super hard thing when you are supposed to let it age 6 – 12 months!! Â I always cheat and have some as soon as it's done fermenting!)
I also canned up some green beans and jelly (elder/raspberry again because I had a big crop this year!)
I was inspired to can because of my friend, Ashley English.  Aside from being a fabulous author, wonderful homesteader, and mama to one of the cutest little boys around.  She also throws stupendous canning parties!!
I was super happy to be invited to her pickling party yesterday. Â Whole Foods came out and filmed the party for one of their upcoming online shows, and other photographers were their capturing great pickling moments for her new book. Â (Ashley, Kaia is taking a stage/movie makeup class…. next time I'll have her out there with her little make up kit to make sure each of us is camera ready 🙂
I have to admit, I felt pretty important will all the cameras around!
We sat down around a table while Ashley talked about canning preparation and the ingredients we would need. Â We created beautiful jars of canned okra (Moroccan Road Okra, she called it) and then crafted our own labels.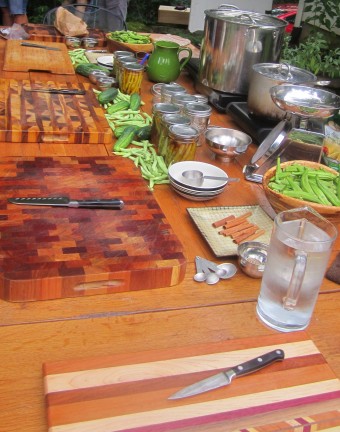 While this was going on, we also chowed down on FABULOUS local and home made foods (well, most people ate daintily, but I seriously chowed down!)  There were all kinds of  home canned foods, from pickles and okra to kumquats and cherries.  There were home made breads, artisan cheeses, salami, and kielbasa.  It made me moan!!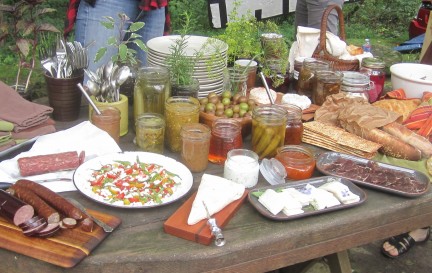 This is our beautiful host!
The family should be pulling into the driveway any minute now and I can't wait to get some hugs and snuggles!
Have a beautiful week!