A beautiful Lavender Orpington Rooster! Â (Thank you so much, Sadie!) Â Kaia and I went through a list of names. Â We wanted something that sounded powerful and regal… Albus (as in Dumbledore), Arthur Pendragon…. but we ultimately settled on Zeus. Â I think it fits him very well!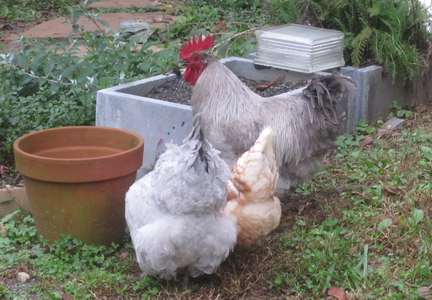 I know, we already have a rooster. Â But, he's so little! Â We love Millhouse, but I really wanted a full sized rooster to protect the chickens when they are free ranging, as well as to hear that full sized crow. Â (He's still working on his crow. Â He's going through his adolescent voice-cracking phase right now.) Â So far, the two of them are getting along pretty well. Â They've pecked at each other a little bit, but mostly leave each other alone.
I have to say, I was a little offended that Zeus got right down to work. Â He didn't even have time for proper introductions or margaritas before he was up on the ladies doing his duties! Â He's going to be a great roo, though. Â He's almost like a border collie, the way he herds the other chickens to keep them in line!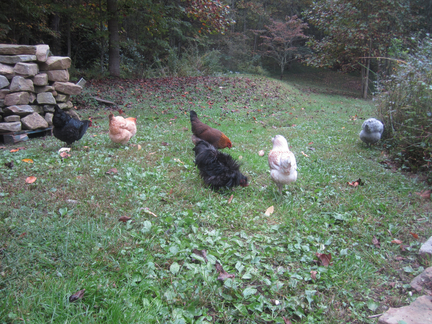 Happy Chickens!