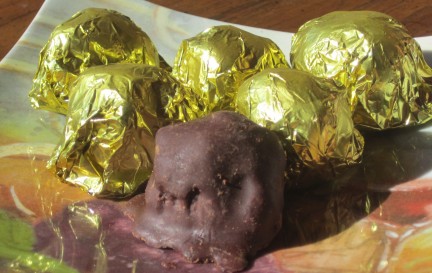 Why are they hellish, you ask? Â Because you won't be able to stop eating! Â Seriously!! Â Five pounds added to the hips in the last few days, my friends!
So, you still want the recipe? Â OK. Â If you say so.
Truffles from Hell!
1 cup coconut cream (Put two cans of unshaken coconut milk in the fridge for a few hours. Â Scoop one cup of the thickest cream off of the top for this recipe. Â You may only need to use one can.)
24 ounces Enjoy Life (dairy free) chocolate chips or chunks  (16 ounces for the filling, 8 ounces for the shell)
3/4 cup coconut oil (1/2 cup for filling and 1/4 cup for the shell)
1/2 cup cordial (I used my home-made Rose Petal Cordial)
1/2 cup cocoa powder
2 Tbsp cinnamon powder
1 tsp. freshly grated nutmeg
Melt 16 ounces of chocolate in a double boiler. Â Then, add 1 cup of coconut cream and mix well. Â Add 1/2 cup of coconut oil and mix well. Â Add cordial and mix well. Â Pour this into a bowl/baking dish and place in the fridge for 4+ hours, until it's completely cooled and hardened.
Once the filling is hardened, use a spoon to scoop out small amounts and form into ~1 inch balls (yes, your hands will get messy).  Roll these in the cocoa powder and cinnamon and place on wax paper on a cookie sheet.  (I rolled the filling into balls and gave them to my daughter to roll in the powders.  That kept us from making a huge gooey mess.) Place the cookie sheet back in the fridge to make sure they are nice and hard again.
Melt 8 ounces of chocolate in a double boiler. Â Add 1/4 cup coconut oil and nutmeg. Â Mix well. Â Take the truffles out of the fridge and dunk in the melted chocolate, placing them back on the wax paper. Â (I put one truffle at a time in the chocolate and fished it out with a spoon.) Â Put back in the fridge until hardened.
EAT!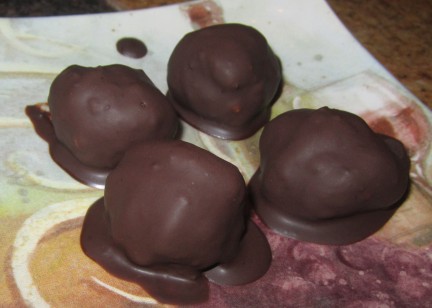 These are fabulous treats for parties, gifts for friends, late night snacks while in a hot bubble bath….. I think these with rose petal cordial would be great for Valentine's Day. Â I might try some lavender cordial this summer!! Â Yum! Â Ooooh, mint cordial would be nice, too!! Â Ack! Â Somebody stop me!