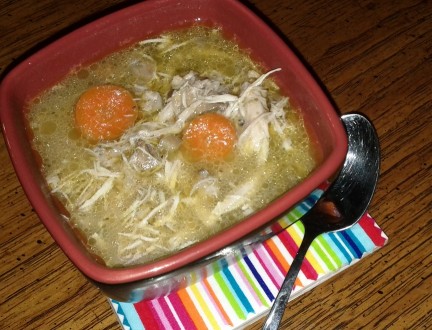 I love to have a big stash of chicken soup in the pantry. Â On those cold, blustery days of winter, nothing is more satisfying than a big bowl of hot soup (well, maybe chocolate, but that applies in any season).
A few years ago, I discovered this recipe and the whole family devoured it. Â I've tweaked it a bit over time… adding my own arrangement of herbs and spices to increase the immune boosting properties of chicken soup even more. Â I also leave out the noodles so that I can pressure can it and store it in the pantry.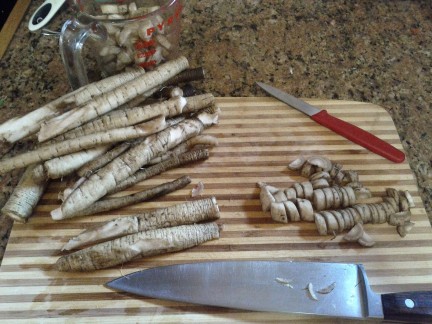 Here you go. Â I hope you like it. Â The elderberries and burdock grow in our yard, so I have easy access to these nourishing and immune-supportive herbs. Â You can usually find them at the health food store or you can omit them.
Winter Chicken Soup
Ingredients
1 whole chicken (3-4 pounds. Â I keep the kidneys and liver in the chicken, but take the neck out and give it to our animals… they love it! You can also break the bones up a bit to let the marrow out)
1 cup carrots, sliced
1 cup celery, sliced
1 cup onion, chopped
1 cup burdock root chopped (if using dried, use 1/2 cup)
6 shiitake mushrooms, chopped
1 cup fresh (or frozen) elderberries (1/2 cup if using dried)
3 cloves garlic, minced
2 bay leaves
1 Tbsp. apple cider vinegar
1/2 tsp. dried thyme
1 Tbsp. salt
1/2 tsp. ground pepper
8 cups of water or chicken broth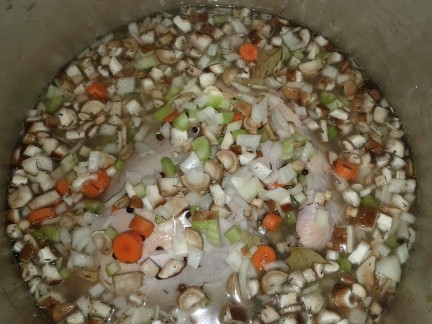 Put all of the ingredients in a large stock pot. Â Cover and simmer for 3-5 hours. Â Once it is done, take the chicken out (be careful, it's hot!) and remove the skin and bones. Â Shred up the meat. Â The chicken literally falls apart in the soup, so I usually strain what's left in the pot and go through everything to be sure there are no bones left, removing the bay leaves when I do this. Â It takes a little effort, but it's very worth it! Â Put all of the veggies, meat, and broth back in the pot.
Done!
If you want to make this in your crock pot, put everything in the crock, cover, and cook on low for 8-10 hours or high for 4-5 hours.
I usually make a double batch and can up the leftovers. Â Ladle the soup into quart jars with 1″ head space. Â Process in pressure canner for 1 hour 30 minutes at 10# pressure, sea level. Â (We are 3000 feet above sea level, so I add one pound of pressure for every 1000 feet above sea level….. so where I live I process at 13# pressure for 1 Â 1/2 hours.)
Enjoy a scrumptious bowl of nourishing soup!