Kaia and I went Blackberry picking yesterday and got gallons of blackberries, and even a few raspberries. The vines were dripping with berries as big and juicy as I've ever seen. The raspberries weren't ready just yet, but the farm owners had picked some of a different variety a few weeks ago and frozen them. So, I got a few gallons of raspberries too. So, we should have lots of yummy jam soon!!


Look at how huge these things are!

We've also been canning up some tomatoes. A local organic farm had some problems with their packing boxes and ended up with some bruised tomatoes that their buyers wouldn't accept. So, they were trying to get rid of them and selling 20# boxes for $12!!! We got two boxes and I can't find a bruise on them! They are perfect!!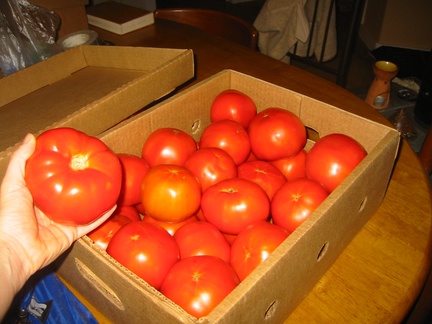 So, tonight we canned some salsa, and on Sunday we are going to can some Pelati and some Roasted Tomato Garlic Soup. MMmmmmm…..
All is well on the baby front. I was showing so early and measuring ahead of dates, that we though we might have twins. So, we decided to go for an ultrasound just to be sure all was ok. Turns out there is one happy baby in there and one freakin huge placenta! From what I understand the main reasons for big placentas are moms with Syphilis (which I don't have), diabetes (which I don't have), Rh incompatibility (which we don't have), and just because. I guess it's just because. Big placentas often grow big babies… :-O
Isabella and Daisy went in to get spayed last week. Daisy came back her usual self and just bounced all over the place. We tried to keep her calm so that she wouldn't break her sutures. She did fine, but for some reason Isabella's wound opened a tiny bit, about the size of a pencil eraser, and she was having some swelling under one of her nipples. So, we took her back in and they put an adhesive on the skin to get the wound to close. But they also had to give her a cone to keep her from licking it.


She was not happy about it, walked around the house backwards, and somehow still got around it to lick the wound. Within a day it was opened up again, so I decided to do it my way. I cleaned the wound and put a sterile dressing with honey on it, then wrapped her belly in an ace bandage. So far so good. She's able to move around and hasn't tried to take it off. She's eating well and I'm giving her some herbs in her food to keep down infection and to decrease the swelling (which is gone now).