We had some great progress on the house these past few days.  A bunch of friends came out to lend a hand on Sat. and then Toby's dad stayed over to help again on Sunday!  We have such awesome friends and family!!
Here we are beginning the decking of the first story roof.  Each piece of wood was planed on one side to give it a smooth, clean look.  Then the edges were routered to give them a finished look.  Then hammered into place. The floor was constantly covered with sawdust.  We will have enough sawdust for the composting toilets to last for at least a year!!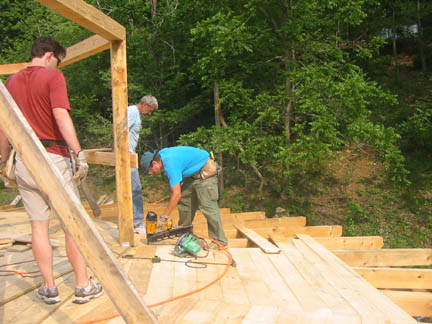 More decking…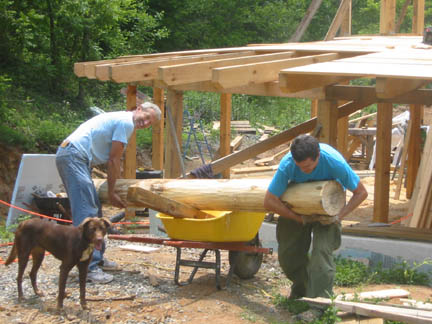 Toby and his dad trying to lift the center post up to the second floor.
Just about finished!  There's the center post for the second story laying over to the left… See it?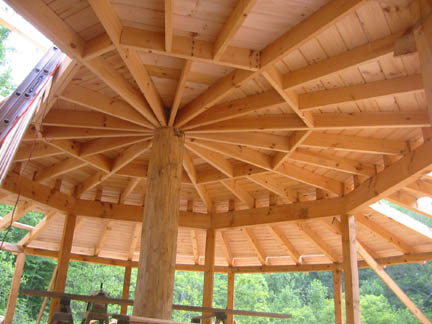 Here is the view of the ceiling from the inside.  I was laying down in what will be Kaia's room.  Pretty, eh?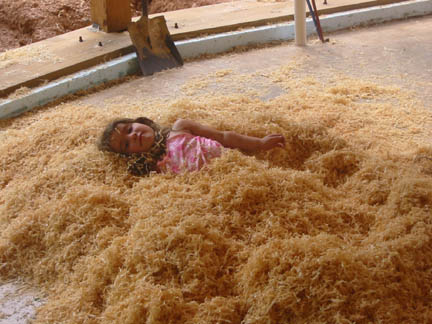 Kaia enjoyed all the saw dust we made!