Kaia turned 4 last Sunday, but we are having her party tomorrow (we were out of town last weekend). Kaia asked Toby and I to make her birthday cake with her instead of buying one! She picked out all the stuff… the cake pan, the decorations, etc…
So, today, we set about on a cake baking expedition! Seeing as we had a 16″ diameter round cake pan that is 2″ thick, we had to quadruple the recipe!!! (Man, I hope lots of people show up at the party tomorrow, 'cause this thing isn't gonna fit in our fridge!) Here's Kaia mixing the ingredients in the biggest pot we have.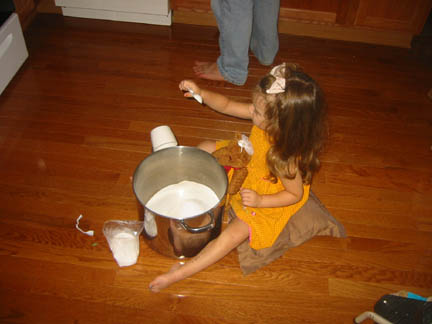 As you can see, the batter turned out rather tasty! We made a Hummingbird cake (which is kind of like a carrot cake, but with pineapple, coconut, pecans, and bananas).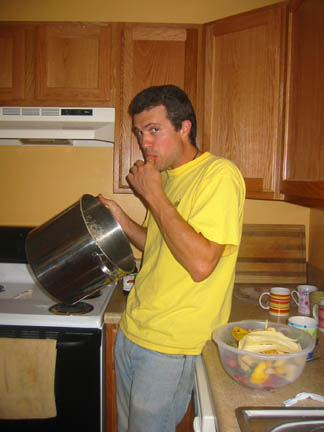 Here we have our little cake cooling. I can't believe it came out of the pan in one piece! (to give you some perspective as to how big this friggin' thing is, that is a dime on the front corner of it!)

Kaia really disliked the decorating process, as you can see. And, of course, she had not sampled any of the icing by this point!

And here we have the final product! Ariel sitting on an island, while purple waves lap the shore. The sun shines brightly down on the fruit people who are dancing in the sky, on the island, and in the sea. Everything in and on the cake is edible and we used turmeric, annatto, cranberry, and blueberry for the colorings. Next time, I'll get some chlorophil for some vibrant green. Now… how to get this too the party??? Hmmmm…