Kaia's party was a hit! The kids played hard, ate well, and should all be sound asleep by now! The cake got rave reviews, so I thought I'd post the recipe:
Hummingbird cake
3 cups all-purpose flour
2 cups white sugar
1 teaspoon baking soda
1/2 teaspoon salt
1 teaspoon ground cinnamon
1/2 tsp Nutmeg
3/4 cup shredded coconut
3/4 cup vegetable oil
1/2 cup buttermilk
3 eggs
1 teaspoon vanilla extract
1 (8 ounce) can crushed pineapple with juice
2 cups mashed bananas
1 cup chopped pecans
DIRECTIONS
1. Preheat oven to 350 degrees F (175 degrees C). Grease and flour 2 – 8" round pans. Line the bottom with parchment paper. (We used a 16″ pan, so we doubled this recipe)
2. Measure flour, sugar, soda, salt, cinnamon, nutmeg, coconut, milk, oil, eggs, vanilla into mixing bowl. Beat until smooth. Stir in pineapple with juice, bananas, and pecans. Pour into well greased and floured pan.
3. Bake in oven for about 45 minutes and check. Continue for another 20 minutes if needed. Turn cake out onto rack or plate after cooling for 20 minutes. Cool, and ice with cream cheese icing.
CREAM CHEESE FROSTING (this is the recipe I used, and many people liked it. but, I think I would leave out the butter next time…)
1/2 c. butter
1 (8 oz.) pkg. cream cheese, softened
1 tsp. vanilla
1 cup powdered sugar, sifted (Adjust to taste)
To make frosting, combine butter, cream cheese and vanilla in large bowl and beat until well blended. Add powdered sugar gradually, beating vigorously. If too thick, thin with milk to spreading consistency
Decorate cake with berries, flowers, nuts
Use natural colorings to color the icing for decoration (beets, spirullina, turmeric, fruit juice concentrates)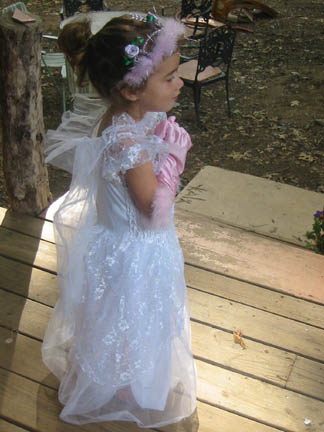 Preparing for the party, Princess Kaia poses for a picture.