Sometimes the best way to talk about what we have been up to is through pictures… There are lots to follow:
We went to the local nature center last weekend to see their butterfly exhibit. It was a small greenhouse filled with plants and loads of butterflies. When you walk in, they offer to spray your hands with sugar water so that you can let a butterfly eat off of your hands.
How many can you count in this picture??? I think I got 14!
Kaia carried her tiger around in a sling the whole time we were there. She got so many "Awww"s and "How cute!"s that I felt like passing out slings so that everyone could have one!
The nature center also houses animals who have been injured or are endangered. Here's mama bear relaxing by her favorite tree.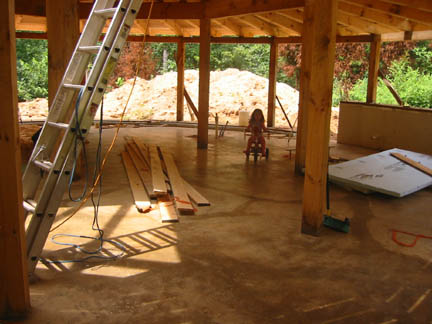 Back at the house, Kaia's new favorite past time has become riding her tricycle around the downstairs. I can't blame her! This is the first time she has actually had a flat spot to ride on!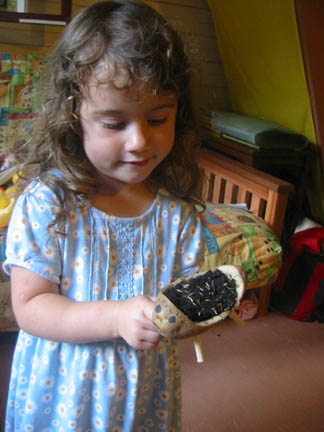 She is in summer camp at her school and this week has been Adventures in Gardening. They made a planter out of a potato and gave it a face and legs. Kaia loves to water her piggy potato!
Toby has started putting up the roofing on the second floor. This is a view up the stairwell from downstairs.
Here is the roof of the 1st floor, there is ceiling-decking-and then the waterproof membrane.
Once all of the waterproof membrane goes down, then there is 4 layers of insulation!
We'll be in the dry soon!!
I'm headed to Chapel Hill first thing tomorrow morning for a weekend of hooping!!  I will take lots of pictures, and maybe some videos!