I don't know if you could really call it nesting, 'cause my house is in shambles and I'm not really 'creating a nest' for the baby, but all I want to do is sit on my butt and make things. Really, it's been going on since last Fall. So, I think this baby has some serious crafty genes that are coming out through me!
So, inspired by a little felted gnome that I got from Kristine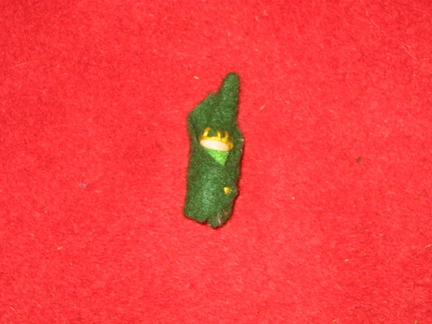 I decided to make a leaf blanket for the baby. I got some green fleece (on sale! Yahoo!) and made a pattern on large construction paper. Then, using some of Kaia's washable markers, traced the pattern on the fleece and cut it out. I also cut out a triangle to go at the top of the leaf for a little hood. Then I marked a vein pattern on the leaf and sewed thread on top of that. Came out cute, eh? From tip to bottom, the leaf is a little over 3 feet, so it should fit for a while. I have a magnetic snap that I might put on after the baby comes and I see where it will fit best… or I may use something that is more adjustable for the baby to grow with.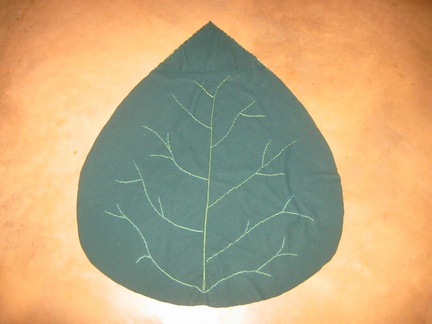 Of course, now Kaia wants one, but I'm tired of the needle work, so, maybe I can just make her a hooded cape like thinging without a leaf pattern….
And once you open up the leaf blanket to reveal the baby, you might see these: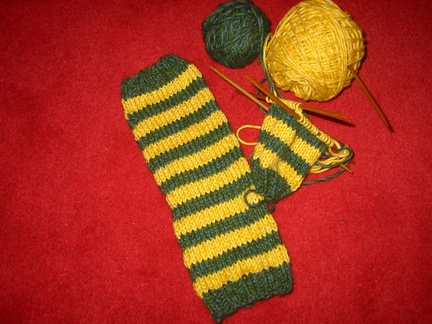 I knitted up some baby leg warmers for the little one…. They turned out really cute, but much too big for a newborn (maybe 6 months to a year). So, I plan to knit a much smaller pair once I find the right yarn (man I love yarn 🙂
Kaia took the leg warmer and put it over her hands and said "Look mom! It's a perfect hand warmer!" So, since I can't stop, I knitted her a muff out of some fuzzy yarn from my stash. It turned out really cute, but man was that fuzzy stuff hard to knit with!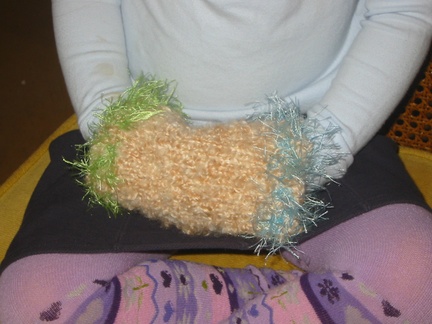 All else is cruising along here at the homestead. The chickens are all laying again (except the younger ones), the guest house is livable though not complete (needs finish work and for the water to be run), and my belly is getting ever larger! Anytime in the next month we will finally get to meet this little one!