I put out some roots yesterday while the moon was in Virgo… potatoes of all colors (red, blue, white, yellow fingerling, new potatoes). I did intensive planting of 50 potatoes in a small raised bed, each potato was placed 9 inches apart in all directions. We'll see how it goes. I also planted beets (Lutz's salad beets, which make good greens as well as large beet roots, and Chioggia, which are the red and white bull's eye beets). And since the onions I grew from seed are still looking puny, I put in a pound of onion starts, too.
I also planted a rose bush. I know that's not a root, but I'd just received it in the mail and it needed to get in the ground. It's a Rosa canina rose. I've been looking all over for it and found only one supplier, and it was going to cost $70 to get it shipped to me. Even though these aren't the showiest of roses, the hips they produce are huge and I use them a lot in cooking and medicine. Many other roses produce nice rose hips, but this is the kind you will get when you order them from an herb supplier. So, I thought I would have to be without…then Lizzy Lane found one on Ebay for me… in Italy! I contacted the seller and they were the nicest people! They said they would send me a small start for $11, including shipping. It arrived in beautiful condition on Wed. so I plopped it in the ground yesterday. Yay!
Here's a rose hip recipe for you:
Rose Hip Jam
Fill jar 2/3 full of cut, sifted & deseeded rose hips.
Cover with apple juice.
Let sit 4 hours to overnight. May be blended for smoother texture. Refrigerate.
Slather it on toast, use instead of jelly, or just eat it with a spoon!! Mmmm
Toby's started work on a wood shed. It seems to rain every time we need to bring wood in for a fire, so we thought it would be nice to have a dry place to stack it for next winter 🙂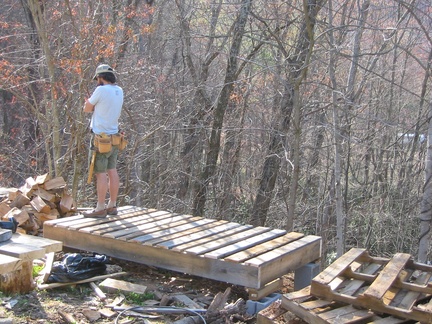 And, I don't think I ever put up pictures of the guest house once we finished it… well, almost finished it. Heidi's been living in it since late last year, but it still needs water, electricity and finish work. It's cute though, eh?