We have started on what I hope to be our last project this year… The Chicken Chalet (I was going to call it the chicken palace, but being in the country, it just seems more like a chalet :-)  Toby and I have promised each other that we will have no more big projects until next spring.  We are both very ready for a break!!!  Let me say that again to make sure it sticks: We are both very ready for a break!!  Kaia has already requested family time by the fire, with hot chocolate, marshmallows, and knitting.  Let's see if we can make that happen!!
Anyhoo, we now have around 30 chickens and desperately need a larger space for them.   Their new coop is 12 x 12 with a 6×6 corner of it walled off to be my garden shed.  So, they have an "L" shaped coop.  It should be ample space for them (and the baby pea chick that we are still hoping to get once the coop is done).
We had some wonderful help with Toby's mom showing up with all of her tools, Heidi lending a hand, and Heidi's man (who just happens to be a professional carpenter)… You can't beat that!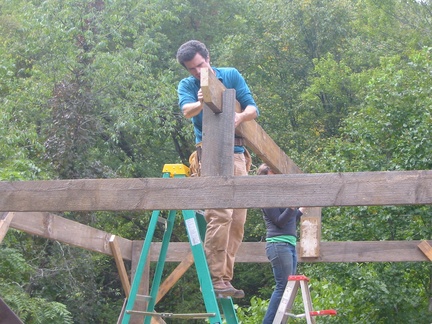 We put on a couple of panels of clear roofing so that the chickens can have a little natural light.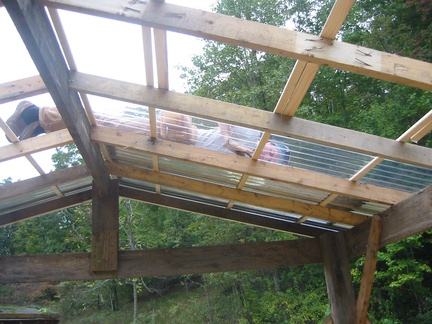 And just to prove I was working too… This is what I was looking at all day!
We probably have another full weekend of work before it's done.  But, then I get to kick my feet up and just enjoy the fall and winter, right???