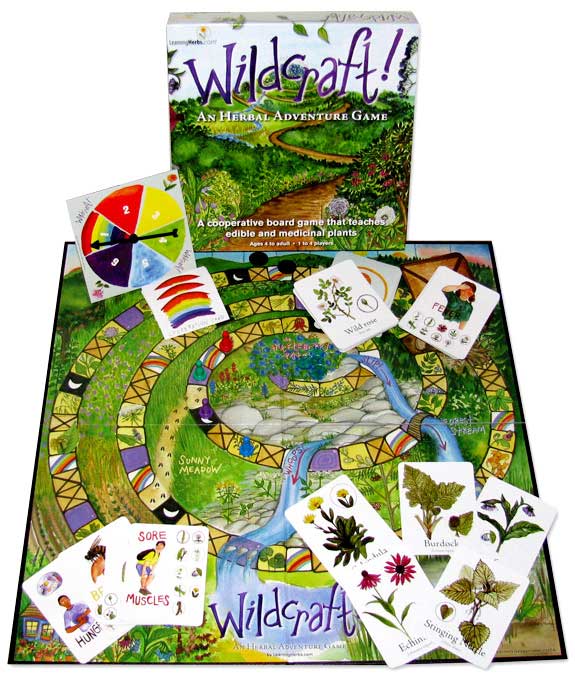 OK, I've been hearing about this board game for a while now and, I have to admit, I have been very resistant to it!  I'm not totally sure why, but I think it has to do with the feeling that if I'm a good herbalist, I shouldn't need the aid of a board game to be able to teach my kids about herbs.  (I know, that is stupid… if it's fun, who cares, right.)  Still, when the game went on sale (1/2 off!)  last week, I decided to give it a try.  I really didn't think Kaia was going to go for it.  It doesn't have anything to do with mermaids, castles, or the like.  But, when the mail was delivered and Kaia saw the game, she flipped out!  She was so excited to play, that we had to schedule an emergency "family play night" that night! 🙂
So, did I like it?  I have to say, I am thoroughly impressed!  It was SO flippin' cute and fun!  Kaia loved it and for once wasn't all competitive about who won!  (No one wins, it's all about cooperation.)  We all liked the story that went along with it… collecting herbs to help with our ailments…. picking huckleberries…. It is just fun!  I even learned some new herbs!
Here's how the story starts:
Grandma needs huckleberries to bake a pie. You and your cousins embark on an adventure up the mountain to collect berries as well as herbs she uses.

Will you all harvest the right plants to help with the trouble you run into along the way?

Will you make it back before nightfall?

The only way to win is by helping each other out.

Wildcraft! teaches you 25 important edible and medicinal plants and their uses in mostly first aid situations. (Wildcrafting is the harvesting of wild plants)
It also teaches team work, for you will rely on each other's knowledge of plants and good fortune to make it to the Huckleberry Patch and safely back to Grandma's.
You should definitely check it out!  You may still be able to win a free one here.  I don't know if the contest ended yesterday or if it's still going…