Smrt Lernins is having a photo contest.  They want to know what homeschooling looks like to you.  Well, we've only been doing this for 6 weeks, but it seems like I'm always posting pictures about what Kaia is up to.  There are so many photos to chose from.  But, I think one of my favorites is one I took this last week when we went to visit family at the beach.  I absolutely love that homeschooling is portable!  We packed up some of her books and headed out to the shore, where she found herself a nice rock/table and went to work.
She did a little of her language studies first and then we read some books on dinosaurs.  We decided that we were in the perfect spot to make a dinosaur.  We measured out 160 feet (the size of a Seismosaurus), found some good drift wood drawing sticks, and drew ourselves a dinosaur!!
In this photo, I'm standing at the tail end and Kaia, the little red speck in the distance, is standing at it's head.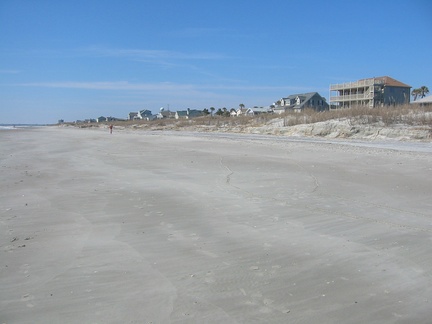 And, of course, no sand dinosaur is complete without a little dino dung!
Leif wanted to support us in our dinosaur creating efforts, so he put on his Dino-Might shirt.  (Punk hair courtesy of daddy)
You need a little more of his squishy cuteness?  How about a side view?