We took the kids to the fair last night for some fun on the rides and greasy fair food!
Kaia has always been a very cautious child and likes to ride the slower kiddie rides.  Leif went on any ride that he was tall enough for and then cried and screamed "MORE!" as soon as we tried to take him off of the ride.  (I love being able to witness how their personalities unfold like that.  They are such cool people!!)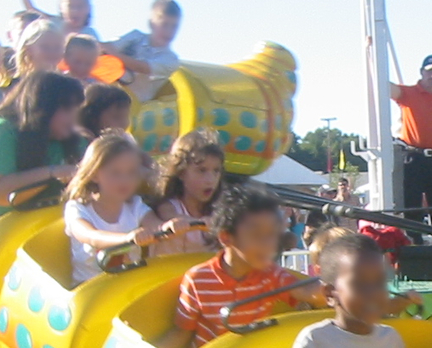 Kaia said this ride was, "Fun enough to ride again, but scary enough not to."
Leif looked a little concerned about riding this little fish all by himself, but when it stopped he asked for more.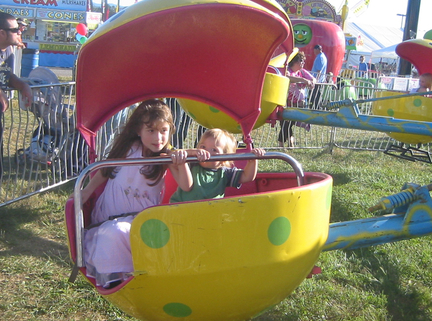 This was some kind of crazy fish/helicopter thingy.  As you can see, it went fast enough to swing the kids to the outside of the seat.  Kaia spent the whole ride trying to slide Leif back to the center 🙂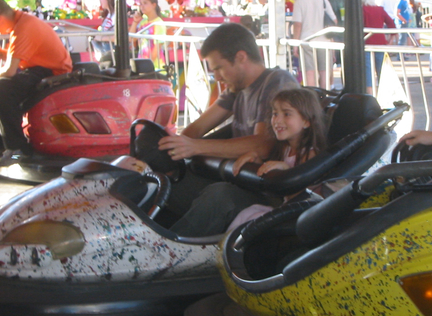 Leif was very unhappy that he wasn't big enough to go on the bumper cars, but enjoyed watching Kaia.
Oh, and the big happenings at the homestead are that we have a bunny!  Well, our land mate, Heidi, has a bunny.  She spent this past week at the John C. Campbell Folk School learning how to prepare , spin, and dye natural fiber and came home with little gray angora bunny!  She's such a cutie and very sweet! 
I have to admit, since learning how to sew in January, I haven't picked up my knitting needles.  But now that the weather is cooling down, I'm getting the urge again!