Want a fun way to encourage story telling and writing in your home?  Create a story board!
If you are sew crafty, you can sew some pockets onto a larger piece of fabric.  If you don't sew, what about using poster board and gluing or stapling on paper pockets?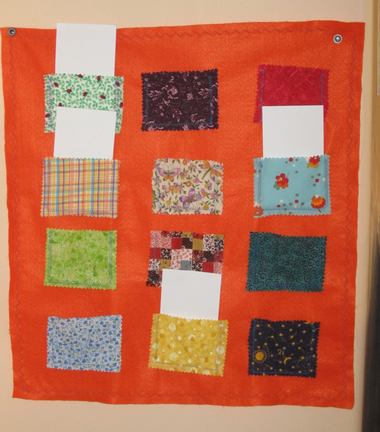 I sewed 12 pockets (about 4 inches wide, although next time I may make them larger) onto a large piece of felt.  Those are 3×5 cards, just for size reference.
Label these pockets.  We used the 5 W's and 'How'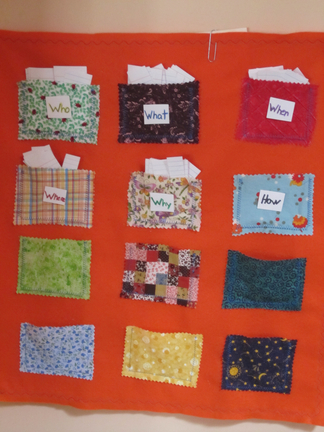 Fill your pockets up with your ideas.  For example, 'who' could be grandma, Snoopy and Woodstock, the cat, Frosty the Snowman… 'where' might be the cellar, on Mars, under the table… Get the picture?
Then, have your kids take one piece of paper from each pocket without peeking at them.  With these they can create their story.  They can tell the story, act it out, write it down, draw it… however they want to create their story.  It can lead to some great fun!
And you don't have to stop at the 5 W's.  You can put whatever label on these pockets that you like.  For younger ones you can put a color, shape, letter, or number label on each pocket.  We put colors on each pocket and had Leif sort colored tiles and blocks.  You could do the same with shapes, letters and numbers using toys, refrigerator letter and number magnets, etc.
Kaia just went to the story board and pulled out these:
Who: Mom and Dad
What: Got an ugly haircut
When: in the distant future
Where: in a dungeon
Why: Because he burned his tongue
So… what kind of story would you make with this?