Actually, I'm finally back from one crazy sick household!  Aside from a long, cold winter with lots of snow keeping us indoors, over the past 2 months, both the kids have had whooping cough, and Kaia and I had the flu!  GeeZ!!!  Talk about going stir crazy.  Luckily, we are all feeling better and in good health.  Just in time for our trip to Disney next week!!! (woohoo!)  But, being in the house SOOOO much gave me some time to reflect on all the stuff we have.  Way too much stuff!  So much stuff sitting around, going unused.  So, Toby and I have decided to down size.  Our initial intention was to get rid of 50% of our stuff, but realistically, that will probably be closer to 20%, or so.  I've made 3 trips to Good Will with the car full!  Boxes of books have been donated to the library.  And a few of the larger items are being sold.  Kaia's room is what is left (and will probably be the hardest one since I have to get permission from the princess to get rid of stuff).  Ooooh, it will feel so nice to have de-cluttered!!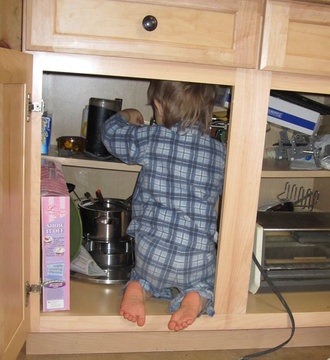 Leif enjoyed helping go through the cabinets with me.  (Man!  I love those little feet!!)
He also loved snuggling up with Kaia and me when we were sick.
And, of course, he knew exactly which rules could be broken easily when mommy was too tired to say 'no'.
"Who me?  I'm not sitting on the table playing with your phone!  You're hallucinating mommy!"