We just got back from a fabulous week down in Orlando!  Toby had a computer conference at Disney, so we planned a vacation around it and everything just fell into place!  We were able to visit with friends and family, and play until we collapsed from complete exhaustion!  There are A LOT of pictures to follow.  I won't take offense if you stop reading here 🙂
We arrived at the hotel last Thursday and took a ride on the Monorail, just to see some of the sites.  Then we joined some friends for dinner at a Polynesian restaurant.  Very Yummy!
Friday, Toby began his conference, so the kids and I headed out to the Magic Kingdom with my Uncle (he works as a safari driver for Disney's Animal Kingdom).  It's so lovely to visit Disney in the winter because there's no one there!  When we'd completely pushed our limits with Leif's nap time, we headed back to the hotel, took naps, and then played in the pool.  We rounded out our day with dinner at Cap'n Jacks seafood restaurant.  It was my birthday too, and I was given a pin that said "Happy Birthday" when we checked into the hotel, so everyone wished me Happy Birthday.  It was sweet to hear that over and over during the vacation!  What a fun way to celebrate.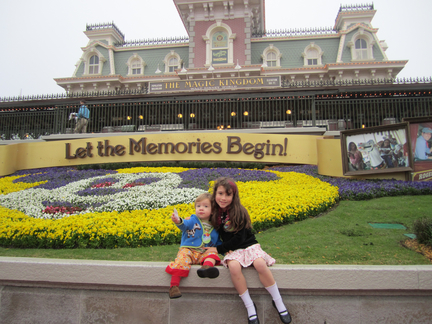 Saturday, while Toby was hanging with the conference goers, the kids and I played in the pool, relaxed, and enjoyed oursevles.  We had a lovely dinner with my aunt and uncle as well as Toby's mom and her friend (they came down to Disney at the same time).
Sunday, Toby, the kids and I went to Discovery Cove.  I have a friend there who is a dolphin trainer.   We met in college at a field studies school in Mexico, while studying marine mammals.  We hadn't seen each other in almost 20 years, but we've kept in touch.  It was so wonderful to see her again, and see what she does.  The place was amazing!  We got to float along in a lazy heated river, we were able to swim with and feed Cownose Rays, snorkel in a tropical reef with colorful fish, and swim with dolphins! They also had an amazing aviary where the birds would eat from your hands.  And if that wasn't enough, when we got back to the hotel, Toby's mom took the kids and Toby and I headed to the Magic Kingdom for a date! We rode Thunder Mountain 3 times and Space Mountain 4 times!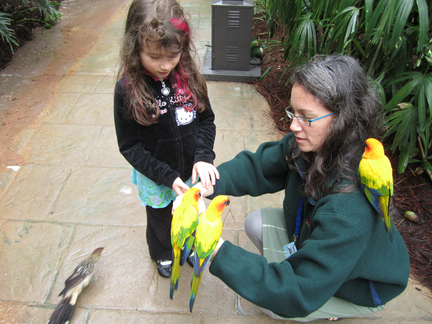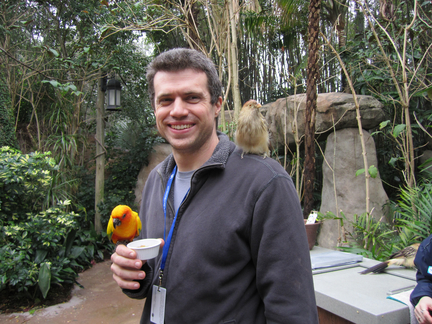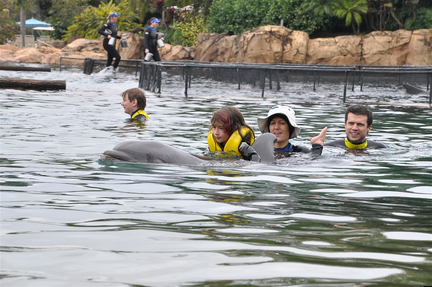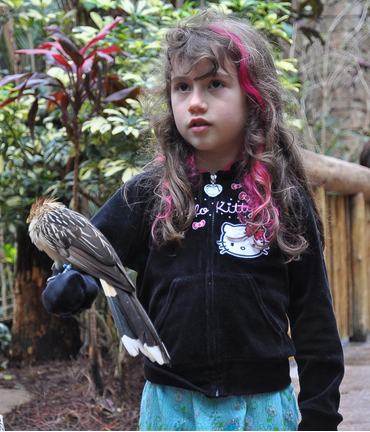 Monday, Kaia had a class at Epcot through Disney's Youth Education Series.  If you have kids and plan to go to Disney, you should look into this!  Kaia took a fabulous class on marine life, and we all got discounts on our park tickets because of it!  After her class we had too much ice cream and then tried to work it off by running around Epcot.  We finished the evening at a fabulous Moroccan restaurant with music and belly dancing.
Tuesday, while Toby and Leif went to Magic Kingdom, Kaia and I hit The Wizarding World of Harry Potter at Universal Studios.  It was fabulous!  They have recreated the town of Hogsmeade and Hogwarts Castle.  We explored Zonko's Joke Shop, where Kaia adopted a Pygmy Puff.  We bought some Every Flavor Beans and Chocolate Frogs at Honeydukes Candy Shop.  We went through Dervish and Banges, Olivanders, Filches Emporium and the Owl Post.  We stopped for lunch at the Three Broom Sticks and had a few mugs of Butter Beer.  We also took a tour of the castle and saw Dumbledore's office, the potions room, hallways lined with moving pictures, and all sorts of fabulous things!  I rode some of the rides (Kaia chose not to) and they were fabulous!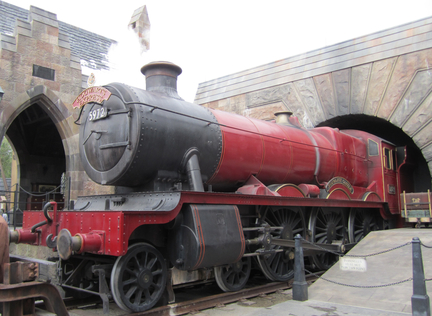 Wednesday, we spent all day roaming around the countries of Epcot while Kaia defeated the bad guys on a super spy mission with Kim Possible.  There were clues hidden all over the park.  She had a cell phone that would clue her in to where to go next to save the world.  Then she would enter in codes or take samples.  She launched a rocket out of a volcano in Mexico, made a huge clock move in Germany, raised a jade monkey from a pond in China.  We all had a blast!  Then we finished the last day with dinner at the Rain Forest Cafe. If you've never been to one of these restaurants, they are amazing.  Decorated like you are in a rain forest, they have mechanical animals that move every 10 minutes, and simulated thunder storms every 30 minutes.  We sat right next to a pair of elephants (one of Leif's favorite animals)!  They blinked their eyes, moved their trunks, and made nice loud noises.  It was so much fun!
We have returned to the 14 degree weather, but we are happy to be home!
Are you planning any vacations this year?