Traditionally, on my birthday, I get a fabulous breakfast in bed followed by a day of fun and a break from responsibilities.  It's always a wonderful day!  This year, though, I was inspired by another blogger to make my birthday a day that has more of an impact.  I decided to spend my 38th birthday doing 38 Random Meticulously Planned Acts of Kindness (MPAK).  I am completely exhausted, but it was one of the most amazing days!  Here is how I spent today:
MPAK #1 – Gave the kids the day off of school and chocolate cake for breakfast! Â (Yes, it is a heart shaped, super-duper, chocolate cake!) Â Toby took the day off of work, too, so he could join us! Â Awesome man!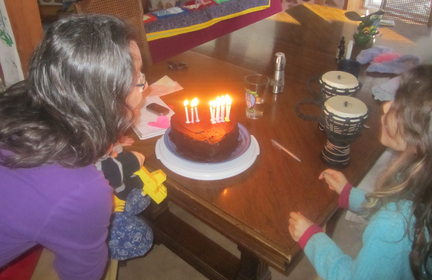 Then we headed down the road to drop some chocolate covered bananas off at the neighbors (MPAK #2). Â We tried to be sneaky and left the treats on the doorstep. Â But, they figured it out 🙂
MPAK #3 – I mailed a letter to two special people who I haven't talked to in a while, and left a thank you note and some chocolate in the mailbox for our mail lady (MPAK #4).
Next was off to the library, where I donated some books (#5), gave the librarians a thank you note and some goodies (#6), and left a few dollars for the next patron with overdue fees (#7).
At the grocery store, we had a great time helping people load their groceries into their cars (#8), and returning carts (#9). Â People looked skeptically at us when we asked if we could help, but I can understand that. Â Unfortunately, most of the time when someone you don't know approaches you it's for something they want, not for something they want to give to you.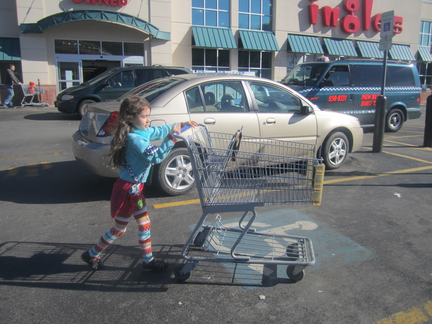 I had written up a bunch of notes with inspirational sayings on them to pass out and put on cars. (#10)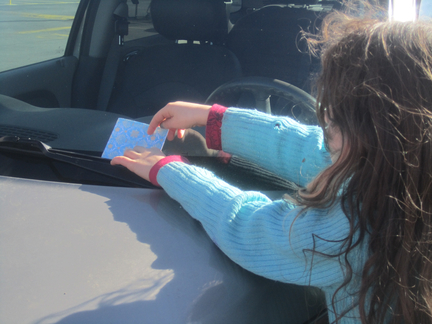 Once we headed inside the store, we stocked up on a few things that we needed for the day: balloons, flowers, tea, pet food, litter, and a gift card for groceries, which we gave to a sweet lady in the line next to us (MPAK #11). Â She looked stunned and I don't think she was quite sure what to do with the thing. 🙂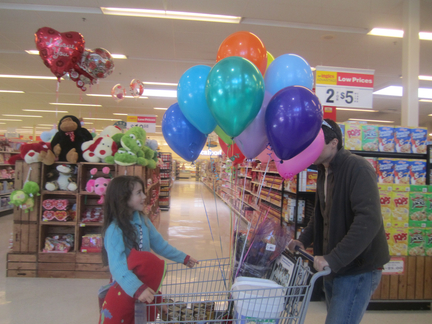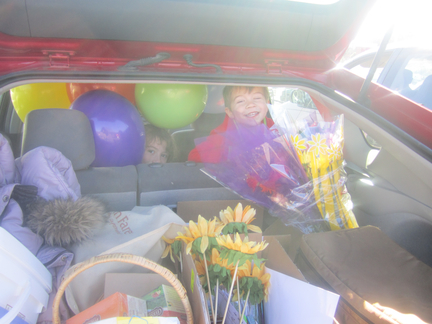 Then, it was on to the laundromat, where we taped some coins on the machine for the next unsuspecting clothes washer (#12).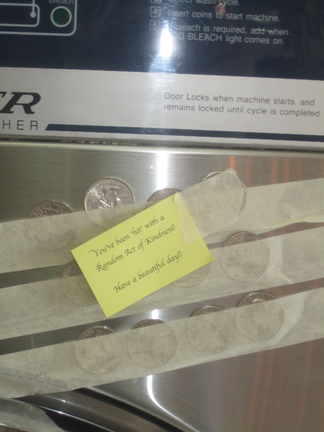 We veered from my detailed and ordered list then, to make a stop at the local hospital. Â A dozen balloons in the back of a Prius makes for a bit of a driving hazard. So, we thought it might be a good idea to drop them off first.
We had hoped to give the balloons to the kids in the children's ward, but we were turned away. Â They were concerned about the latex in the balloons. Â So, I headed up to the Labor and Delivery ward (where I use to work) and they were happy to give them to the mamas there (MPAK #13).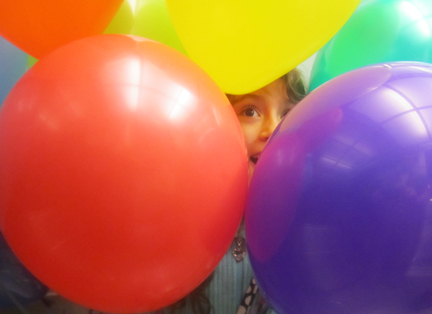 While we were there, we also dropped of some flowers and tea for the nurses (#14). Â It was a wonderful treat for me, too, because I got to visit was some friends that I hadn't seen in a long time! Â Ok, really, this whole day was a wonderful treat for me. Â How can you not feel happiness seeing all the smiles created by kindness?
Then we snuck into a few of the public bathrooms and taped inspirational notes in the stalls and on the mirrors (#15)
From the hospital, we headed over to a couple of friend's houses to put love notes and a little chocolate on their doorsteps (#16). Â Mmmmmm! Â Chocolate!
By the time this was done, we were getting a bit hungry and headed to lunch.  While we were at the restaurant, Leif delivered some hand-made mint chocolate lip balm to a mama and her little boy, who were sitting at a table near us.  She was very thankful. (#17)  I also bought a white-chocolate brownie dessert and had it delivered to another table anonymously  (#18).  Because, again, who doesn't need a little chocolate?  Then, along with a tip, we left a lottery ticket for our waitress. (#19)
From here, it was over to the park where the kids could play, and drop coins in the sand and all around for kids to find (#20).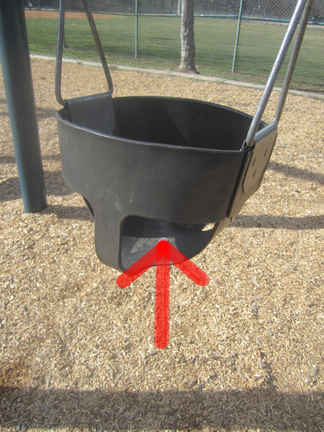 Leif buried a few in the sand box and then dug them up himself, then ran over screaming about the silver treasure he'd found 🙂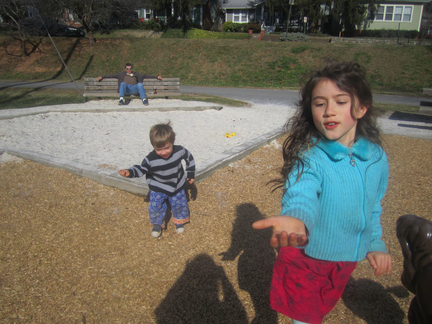 We ended up seeing a friend of Kaia's at the park and she joined us in spreading the coins. Â She told me that I had to add that as a random act of kindness because she was having so much fun and it made her happy to join in the celebration. So, bam, #21!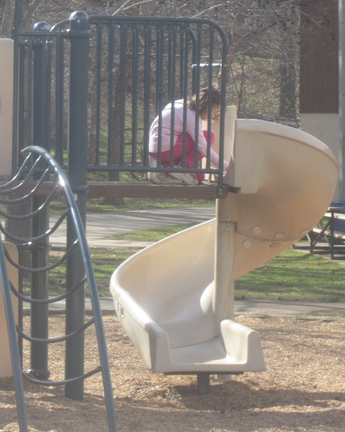 We also saw the mama and little boy from the restaurant to whom we gave the lip balm. Â She came over and said hello, let us know that she really liked it, and thanked us again. Â By the time we were leaving the park, school was letting out and the park was filling up. Â I wish I could have set up a secret camera to watch the kids find their booty.
Before we left the park parking lot, Kaia and I ran across the street and left a bouquet of flowers on a random doorstep (#22). Â As we were getting in the car, we saw a woman and a girl come out of the house and pick up the flowers. Â They both had huge smiles on their faces. Â It was very sweet to see.
From the park, we headed to the Y where we handed out locally made soap to all the sweaty people (#23). Â They all loved it. Â One sweet man told me he couldn't take the soap (this one was a little brown soap). Â He said, "I'm fat and you're trying to give me chocolate?" Â He happily took it when I reassured him that it was only soap. Â Each soap was individually packaged with the information about the local soap business on the baggie. Free advertising for the soap makers (MPAK #24). Â Again, we met up with friends that we hadn't seen in a long time and got to do a little catching up!
Then, it was off to the women's shelter to bring some goody bags with toiletries. (#25)
Leif was getting pretty tired from all the running around decided to take a snooze in the car.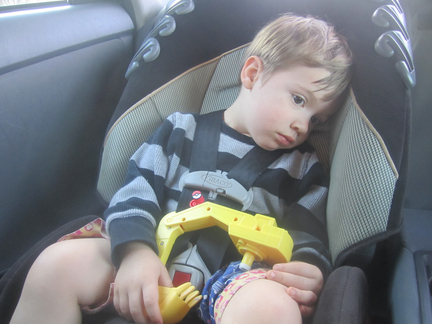 So, Toby dropped Kaia and I off at Brother Wolf Animal Rescue, while he and Leif hung out in the car and relaxed. Â We brought them some dog food and litter (#26), then played with the kitties and a sweet dog named Ruby (#27). Â We also changed the littler boxes in the cat room (#28). Â Before leaving, I bought a raffle ticket, in Toby's name, for a car! (#29) Â I have to admit to you that if he wins the car, we will selfishly be keeping it 🙂
Our next stop was downtown Asheville. Â I put on a sign that said "It's my birthday! Â FREE HUGS!" and headed out into the streets. Â We gave flowers to strangers (#30). Â When we ran out of flowers, we gave inspirational notes (#31). When we ran out of notes, we gave chocolate (#32). Â I was stopped a few times by friendly souls looking for hugs (#33). Â One couple was super excited to see what we were doing, stopped to talk and gave us huge hugs and lots of smiles. (Yes, I have put crazy blur glasses on them because I forgot to ask if it was ok to use their picture on my blog. Â But, you can see their great smiles.)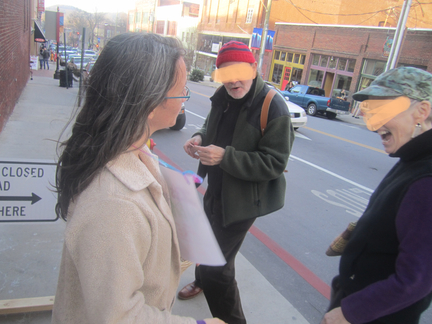 One woman that I gave a flower to asked for a hug and then began to cry on my shoulder. Â I held on as long as she needed and then gave her another flower. Â I wish I could have given more.
We taped quarters to phone booths (#34), and put quarters in parking meters that were about to run out (#35).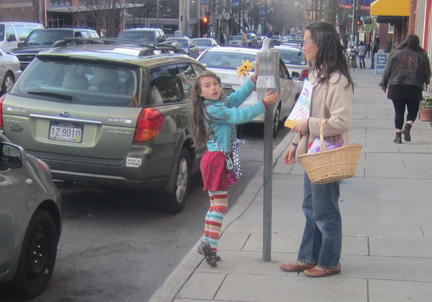 I got a couple of movie tickets at the Fine Arts Theater and then left them for the next person with a little inspirational note. (#36) Â We stopped by the fire station and brought a thank you note and chocolate covered bananas for the firemen (they were very thankful) (#37)
As we were leaving the parking deck, I paid for the next person leaving the deck (#38).
That's 38! Â But, we weren't done yet. Â I still had a box of books in the back of my car that was destined for a friend's house. Â So, off we went to bring her some homeschooling books that she has really been wanting but wasn't able to purchase. Â  (#39!!) Â She was super happy and said she felt like she was on a TV show with someone delivering a big prize to her doorstep. Â We visited for a while and then, after a wonderfully long day, headed home… for more cake!
It was an amazing day for all of us.  Kaia is already planning the 9 deeds she wants to do on her birthday (Yay for role modeling)!  But in the end, I know I've received more than anyone else today, and I think I will be high on all the hugs and smiles for many days to come.
Oh, by the way, Random Act of Kindness Week is Feb 13th – 17th. Â So, if you are feeling inspired, I challenge you to go for it! Â During RAOK week, or any time!!! Â And please leave me a note letting me know!!
Love to you all!
Maria