I've been knitting for less than 4 years, but I love it so much! Â It is such a soothing thing, the repetitive motion of the needles. Â And seeing the finished product, this thing that I've created with my own hands, gives me such satisfaction. Â I think this is such an important life skill for our kids to know. Â Not just with knitting, but with the creation of anything from their own hands. Â So many adults feel powerless to do things because they were never given the skills as kids. Â "Oh, I can't build something like that. Â I don't even know how to use a hammer." Â "I don't think I could ever learn how to knit/sew/cook/build/craft"
This semester, at Kaia's homeschool co-op, I'm teaching a kids knitting class. Â I have 10 girls between the ages of 7 and 15. Â Some have knitting experience, but most are beginners. Â Right now, we are simply learning the basic knit stitch but it's so wonderful to see their faces light up when they get it. Â They may only get a couple of rows knit in the hour long class, but each class they build on that and their confidence in their new skill grows. Â I'm hoping that, like me, they will find the joy in it to continue even after the class is over.
In today's class, we took a break from the actual knitting to learn a little bit about where the yarn comes from.  A generous spinner, Lorri Helms, brought in her spinning wheel and two of her angora bunnies and volunteered her time to give us a spinning demonstration and talk about angora fiber.  The kids (and adults!) had a blast!
Yes! Â That is a bunny on her lap that she is spinning from! Â The loose fur comes right out.
She also talked a bit about caring for angora bunnies, and demonstrated the art of nail clipping. Â Too funny! Â He seemed to enjoy relaxing on her lap.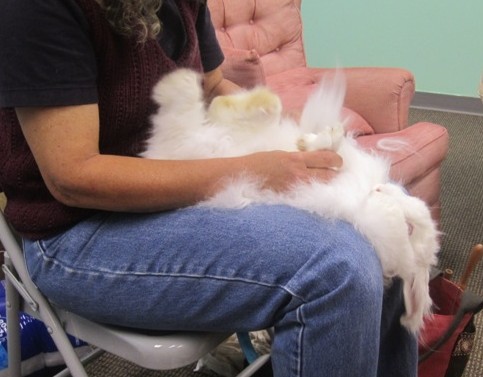 The girls then got to try their hands at spinning.
But, most of all, I think they liked petting the incredibly soft bunnies.